Barrick Trades Blows With Newmont After Merger Talks Fail
Liezel Hill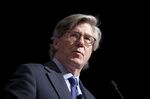 Barrick Gold Corp. and Newmont Mining Corp. blamed each other for a breakdown in merger talks, the latest of several failed attempts over more than two decades to combine the world's largest gold producers and extract cost savings from adjacent U.S. mining operations.
In a series of statements today, the companies sought to assign responsibility for the end of the discussions. Toronto-based Barrick said in a statement that Newmont tried to renege on three elements of the proposed deal after signing a term sheet. Newmont said Barrick's account was wrong and criticized its Co-Chairman John Thornton for not being constructive during the talks.
"Our efforts to find consensus have been rejected out of hand repeatedly," Newmont Chairman Vince Calarco said in a letter to Barrick's board released today.
In their talks earlier this month, Barrick and Greenwood Village, Colorado-based Newmont identified annual savings of $1 billion, mostly from combining their Nevada assets, two people with knowledge of the matter said April 19. Barrick was to offer Newmont shareholders a takeover premium of 13 percent, the people said. The talks were halted April 18 amid disagreements related to a proposed spinoff of some of the combined company's mines, according to the people.
Barrick said today that after signing the term sheet, Newmont sought to back out of agreements to locate the merged company's head office in Toronto, define the assets to be included in a spinoff company, and to outline the roles of the chairman, chief executive officer and lead director.
Andy Lloyd, a spokesman for Barrick, declined to comment on the second statement today from Newmont. Newmont dropped 6.7 percent to $24.67 in New York. while Barrick fell 3.1 percent to C$19.12 in Toronto.
Efforts 'Rejected'
Under the most recent merger plan, Newmont CEO Gary Goldberg would have retained his title while Thornton would have been executive chairman, the people familiar with the proposed deal said. Barrick CEO Jamie Sokalsky was to run the new spinoff and Newmont's Calarco was to be lead director, the people said.
"While our team has found your management team's engagement to be constructive and professional, the same constructive nature cannot be said of our discussions with your co-chairman on certain fundamental strategic and structural issues over the past two weeks," Newmont Chairman Vince Calarco said in the letter to Barrick, which was dated April 25.
Planned Spinoff
Calarco also cited press reports that quoted Barrick founder and Chairman Peter Munk describing Newmont as "not shareholder-friendly."
"None of this suggests that we have the mutual respect or shared values today that we believe are necessary for the enterprise that would result from the combination of our companies to realize its full potential," Calarco said.
Munk, who will retire as chairman on April 30 and be succeeded by Thornton, said last week that the latest round of talks may be different from previous attempts to merge because of the increased pressure to cut costs following gold's decline. Shareholders may also put pressure on the companies to seal a deal, he said.
Gold plunged 28 percent last year, the most in three decades, leading to at least $30 billion of writedowns across the gold-mining industry.
Reduce Risk
While Newmont's termination of the talks is a surprise, the proposed deal would have seen Barrick diluting its investors as it paid a premium for inferior assets with higher costs, Peter Ward, an analyst at Jefferies LLC in New York, said today in a note.
"Barrick shareholders should breathe a sigh of relief," he said. "Synergies in Nevada could be achieved through the formation of a joint venture."
Speaking in an April 23 interview at Bloomberg headquarters in New York, Munk said the plan to spin off some of the combined company's assets outside North America would help reduce risk, improve profitability and make the combination more attractive.
Newmont and Barrick have "cultural differences" that made it difficult to reach a deal and Newmont is "not shareholder friendly," Munk said last week in an interview with the National Post newspaper.
Separately, Canada Pension Plan Investment Board, the country's largest pension manager, said today it's still opposing Barrick's plans for compensating senior executives.
Pay Concerns
"The company has not adequately addressed key shareholder concerns related to its co-chair's compensation," CPP said in a statement on its website. CPP has a stake in Barrick of less than 0.1 percent, according to data compiled by Bloomberg.
Some of Barrick's largest investors last year criticized the company's compensation plan as excessive after Thornton was paid an $11.9 million signing bonus. In March, Barrick outlined its revised plans, including lower compensation for Thornton.
Before it's here, it's on the Bloomberg Terminal.
LEARN MORE