Junk-Bond Skeptics Squeezed as JPMorgan Sees Tears in '15
Lisa Abramowicz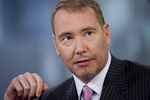 It's a painful time to be a junk-bond skeptic.
It may seem inevitable that the riskiest corporate debt will lose value, since investors are getting paid about the least ever to own such bonds. Yet after bearish wagers on the biggest junk-bond exchange-traded funds surged to a record last month, the market just keeps on rallying.
"Will the search for yield come to tears?" JPMorgan Chase & Co. strategists led by Jan Loeys wrote in an April 25 report. "Eventually, yes." But not, at least, until probably next year, according to the strategists, who are sticking to a positive outlook for now on U.S. speculative-grade debt.
The volume of borrowed shares -- usually used for short selling -- on BlackRock Inc.'s $13.3 billion ETF soared to an all-time high of almost $3.6 billion on March 31, according to data compiled by Bloomberg. For State Street Corp.'s similar fund, the bets approached $1.3 billion, also a record.
How did the market respond? BlackRock's ETF has gained 0.3 percent this month, while State Street's is up 0.4 percent. Yields on the debt as measured by a Bank of America Merrill Lynch index dropped to 6.02 percent, about the same rate buyers were paid to own 10-year Treasuries during the past three decades. Investors have since pared their bearish ETF wagers a bit.
Hating Junk
Aversion to the market was on display at a hedge-fund conference last month.
"We hate high-yield -- we're actually short high-yield," Andrew Rabinowitz, Marathon Asset Management LP's chief operating officer, said March 19 on a panel at the Absolute Return Symposium 2014 in New York. "It's trading at dangerous levels."
DoubleLine Capital LP's Jeffrey Gundlach trimmed allocations to the debt earlier this year, saying last month that "if they start to suffer losses, you really wonder who's going to buy them."
As investors have learned over the past five years, it hasn't paid to fight Federal Reserve stimulus, which is still supporting values that by any historical measure seem expensive. There's a growing sense that the tide will turn. Many are losing confidence that the time is now.
Before it's here, it's on the Bloomberg Terminal.
LEARN MORE