How Alibaba's IPO Is Even Helping Its Rivals
By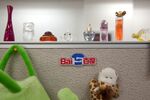 If there's anyone justifiably impatient with the hype around Chinese Internet company Alibaba and its founder, Jack Ma, it's Baidu boss Robin Li. Baidu's chairman and chief executive, Li has built his company into China's largest search engine. Yes, Ma's online shopping site, Taobao, was the Chinese underdog that defeated overconfident American invader EBay, but Li's Baidu triumphed over Google.
Li has been slipping, though. Last year he was the richest man in the country; now he's No. 4, with a net worth of $11.9 billion, according to Bloomberg data. Ma, with a net worth of $12.9 billion, is right ahead of him. Along with mutual rival Tencent, the two billionaires' companies are locked in an ever-escalating arms race as they move to acquire companies and expand into new businesses. The latest deal came today, with Alibaba leading a $1.2 billion investment in Youku Tudou, one of China's top online video services.
Alibaba is about to steal the spotlight with an initial public offering that may be even bigger than the $16 billion debut by Facebook in 2012. But the upcoming IPO for Ma's e-commerce juggernaut is already giving a boost to Li's search giant. Thanks to excitement about the Alibaba IPO and other listings by Chinese Internet companies, Baidu is enjoying a surge in business. As companies from China raise money from IPOs and other equity and debt offerings, they'll be plowing money back into online marketing campaigns in China—and all those campaigns will end up contributing heavily to Baidu's revenue growth, according to Tian X. Hou and Gina Chen, analysts with T.H. Capital. "A significant amount of such capital will be used for online marketing," Hou and Chen wrote in a report published on Friday, and Baidu "is the major platform for them to place their ads."
Baidu is already off to a strong start this year. On Friday, the company reported first-quarter revenue of 9.5 billion yuan ($1.52 billion), up 59 percent from a year earlier, and net profit of 2.5 billion yuan, a 24 percent increase. For April, May, and June, Baidu expects revenue to jump 58 percent to almost 12 billion yuan, "trouncing analyst expectations of 11.5 billion," Bloomberg Industries analyst Praveen Menon wrote in a research note.
Baidu has begun to adapt to China's shift from PCs toward smartphones and tablets. Mobile now accounts for one-fifth of the company's revenue and is growing. "Baidu's core search business shows strong momentum," Jefferies analysts Cynthia Meng, Karen Chan, and Nick Wang wrote in a report published today. In its core search business, Baidu's combined PC-mobile market share is 73 percent, and with Baidu making more moves to win more mobile users, "we expect mobile search to continue gaining traction," the Jefferies analysts write.
To maintain its position, Baidu says it will spend big this year. T.H. Capital analysts Hou and Chen warn the company's profit margins will slightly deteriorate in the upcoming quarters because of "plans to invest heavily in content, traffic acquisition, R&D and [sales and marketing] in 2014." Baidu's operating margin was 25 percent in the first quarter; Hou and Chen expect it to drop to 23.7 percent for the full year.
Before it's here, it's on the Bloomberg Terminal.
LEARN MORE