China's Income Inequality Surpasses U.S., Posing Risk for Xi
Lorraine Woellert and Sharon Chen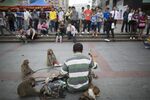 The income gap between the rich and poor in China has surpassed that of the U.S. and is among the widest in the world, a report showed, adding to the challenges for President Xi Jinping as growth slows.
A common measure of income inequality almost doubled in China between 1980 and 2010 and now points to a "severe" disparity, according to researchers at the University of Michigan. The finding conforms to what many Chinese people already say they believe -- in a 2012 survey, they ranked inequality as the nation's top social challenge, above corruption and unemployment, the report showed.
The growing wealth disparity that accompanied China's breakneck growth in the decade through 2011 has increased the risk of social instability in the world's most populous nation and biggest developing economy. Xi is engineering a slowdown in expansion to below 8 percent and leading a campaign against corruption as he grapples with rising unrest, credit risks, and pollution choking the country's biggest cities.
"If the disparity continues to increase, that is not only bad politically -- it will definitely affect social stability, but is also bad for the economy," said Ding Shuang, senior China economist at Citigroup Inc. in Hong Kong. "People are increasingly aware of their rights," including migrant workers and farmers, he said.
Chinese Data
China's system is changing very fast and "those who can take advantage of the system will get rich very quickly," said the economist, who used to work for the nation's central bank. "This is very common in any developing country when the societies are not mature and the system is not set up to be fair to everyone."
In contrast, the pressure on the poorest is smaller in the U.S., where better social safety nets would help to reduce social instability, he said.
Using data from six surveys conducted by five universities in China, the University of Michigan researchers calculated a measure of income inequality, the Gini coefficient, and compared it to earlier estimates.
In 2010, the Gini coefficient for family income in China was about 0.55 compared with 0.45 in the U.S. In 1980, the gauge in China was 0.30. A coefficient of 0.5 or higher indicates a severe gap between rich and poor, according to the report, which also said the Chinese government stopped releasing the data in 2000 when the gauge reached 0.41.
Unrest Predictor
A reading of zero means all income is evenly distributed and 1 represents complete concentration.
"Since the 1980s, the rise of income inequality has been far more dramatic in China than in the U.S.," the researchers wrote. Government policies that favor urban over rural residents and coastal over inland regions have contributed to the gap's rapid growth in China, the report found.
The official estimate for the income gap last year was about the same as in 2012, with the statistics bureau giving a Gini coefficient of 0.473, after 0.474 the previous year. That's above the 0.4 level that the United Nations has said is a predictor of social unrest.
"It's not clear at this point how big of an issue inequality is to the average Chinese peasant or factory worker," said Glenn Levine, an economist at Moody's Analytics in Sydney. "At the moment the main gripe of the broader population appears to be around corruption of the elites" and the environment, he said.
Minting Millionaires
China is minting more millionaires than any other emerging economy, according to a 2013 Asia-Pacific Wealth Report from Capgemini and RBC Wealth Management, which put their ranks at 643,000, up 14.3 percent from 2012.
Xi has overseen a campaign against corruption that led to the arrest of officials in the government, business and the military. The ruling Communist Party has also sought to check the activities of online commentators and arrested microbloggers on charges of spreading false rumors. China's government censors its Internet heavily, blocking websites such as Facebook and deleting postings on Weibo that it deems a threat to social stability.
China is approaching an anniversary that offers a stark reminder of its past struggle to manage popular dissent. On June 4, 1989, Chinese leaders ordered the army to clear thousands of protesters from Tiananmen Square, during which hundreds of people were killed.
More recently, factory strikes and violent attacks have highlighted growing social unrest at a time of widening inequality and increasing tensions between the state and ethnic minorities.
Factory Strike
Workers at Yue Yuen Industrial Holdings Ltd.'s shoe factory in China stopped work this month in a dispute over company benefit contributions, crimping output at the maker for brands such as Nike Inc. and Adidas AG. Last week, Xi warned against rising threats to social stability and national security, after 29 people were killed in a knife attack at a railway station in the south-west city of Kunming last month -- an incident officials blamed on members of the ethnic Uighur separatist movement.
The University of Michigan study will be published online this week in the Proceedings of the National Academy of Sciences of the United States of America.
"Chinese recognize income inequality as a serious social problem; on the other hand, they seem to have high tolerance for income inequality," said co-author Yu Xie, a sociology professor and a researcher with the university's Institute for Social Research in Ann Arbor, Michigan. "They don't like it, but they seem to accept it as a fact of life. Something they have to pay for fast economic growth."
Before it's here, it's on the Bloomberg Terminal.
LEARN MORE