pursuits
Donald Sterling Has No Future With the Los Angeles Clippers
By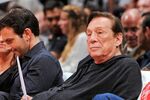 The racism of Donald Sterling was well known in the National Basketball Association before this weekend. In 2009 the real estate mogul and owner of the Los Angeles Clippers paid a record $2.725 million to settle a federal housing discrimination case claiming that he sought to exclude black and Hispanic tenants from his rental properties in Los Angeles. A wrongful termination suit filed against Sterling that same year by NBA legend and former Clippers general manager Elgin Baylor alleged that Sterling had a "vision of a Southern plantation-type structure" for the team, with "'poor black boys from the South' and a white head coach." Baylor lost the suit, but his claims added to Sterling's already poor reputation around the league.
Yet it was a shock to hear Sterling, in a surreptitious recording obtained by TMZ, pleading with his then-girlfriend not to publicize her associations with black people. Everything about the recording is creepy. We should not be hearing this private dispute between an 80-year-old married man with a documented history of cretinous behavior and his twentysomething girlfriend. And Sterling most certainly should not be telling her that it is fine to sleep with black men as long as she doesn't post pictures of herself with them on Instagram. The NBA says it is investigating the authenticity of the recording. The Clippers' official statement says that "what is reflected on that recording is not consistent with, nor does it reflect [Sterling's] views." It does not deny that he said what is heard.
The recording will harm Sterling and his business in a way that his previous history has not because it is personal. Sterling gives voice to an intimate, petty, and particularly repugnant manifestation of deep-seated racism. Condemnation has already arrived from nearly every corner. "He shouldn't own a team anymore," said Magic Johnson, who is named in the recording. Michael Jordan, who, as principal owner of the Charlotte Bobcats, is a colleague of Sterling's, called his remarks "sickening and offensive." President Obama had this to say: "When ignorant folks want to advertise their ignorance, you don't really have to do anything, you just let them talk. And that's what happened here."
Obama, like Johnson and Jordan, expressed confidence in the NBA's newly appointed commissioner Adam Silver to deal properly with Sterling. This confidence comes with no small amount of pressure. Silver, for his part, called the recording "truly offensive and disturbing," but said the league is not prepared to impose sanctions until it has finished its investigation.
Depending on what the league finds, Silver could fine or even suspend Sterling, but pushing him out of the league would be difficult.
According to Sports Illustrated, the NBA constitution, which is not a public document, "contains language permitting owners to authorize the league to sell a team without an owner's consent," but this provision covers financial failures, not moral ones. Silver is in a delicate position. He holds authority over the league's 30 owners, but also works for them. ("It's sort of a ridiculous aspect of the job," David Stern explained to me just before he stepped down as commissioner, "but that's the way it's grown up.") Silver, in that same interview in December, talked about the "incredible group of owners, leading business lights," who now populate the NBA. "I think the job has very much evolved over the years to more closely align to a CEO position than just the cop-on-the-beat, commissioner notion," he said of his own role. Silver for the moment, however, is very much the cop-on-the-beat.
As much as the other owners may be appalled by Sterling, they are not likely to endorse actions that would weaken their control over their own franchises. If Sterling were to try to purchase the Clippers today, he would never pass the league's vetting. But since he's already in, his hold on the club is strong. The best option for Silver will be to entice Sterling to sell. This is, in essence, how Major League Baseball dealt with Frank McCourt and his mishandling of the Los Angeles Dodgers. As it happens, Magic Johnson, who was part of the group that bought the Dodgers in 2012, is now reportedly interested in buying the Clippers. Sterling bought the team for $12.5 million in 1981 and, even in a fire sale, could likely get $750 million or more. (The Milwaukee Bucks, a markedly less attractive franchise, just sold for $550 million.) This route, however, depends on the reasonableness of Sterling.
If he does not want to go quietly, the most effective punishments will not come from the commissioner's office, but from fans, sponsors, and players. Fans have been known to abandon teams over an owner's misbehavior. Fifteen years ago in Charlotte, the sexual assault trial of George Shinn, then-owner of the then-Hornets, soured the city on the team. Shinn relocated the Hornets to New Orleans and eventually sold.
At the moment, the Clippers brand is most closely associated with racism. If things stay that way, sponsors will not stick around. "If it is determined conclusively that the recording captured the thoughts and statements of Donald Sterling," writes Jim Andrews, vice president for content strategy at sponsorship consultant IEG, "it will do tremendous damage to the Clippers brand as long as he is associated with the team. That would negatively impact what the team could charge for sponsorships and could cause existing and potential corporate partners to reconsider aligning with the Clippers."
The online used car marketplace CarMax has gone first in dropping its sponsorship with the Clippers. "CarMax finds the statements attributed to the Clippers's owner completely unacceptable" the company writes in a statement. "These views directly conflict with CarMax's culture of respect for all individuals. While we have been a proud Clippers sponsor for 9 years and support the team, fans and community, these statements necessitate that CarMax end its sponsorship." State Farm, another team sponsor, says it is monitoring the situation and "will be taking a pause in our relationship with the organization."
The most powerful pressure, however, comes from the labor market. Before this weekend, the Clippers were discussed as a possible destination for LeBron James, who has the option to become a free agent this summer. On Saturday, James said: "There's no room for Donald Sterling in our league. There's no room for him." James, it is safe to assume, will not be signing for a Sterling-owned Clippers. He is not the only player who will avoid the team, to say nothing of all the other employees who make a franchise go.
NBA agent David Falk, who represents one of this off-season's bigger prizes in Greg Monroe, says it is premature to talk about the impact on free agents until the league acts. Still, he is skeptical about the prospects for the Clippers under Sterling. "I think the reactions from LeBron, Magic, Michael, and Kobe speak for themselves," he says. "I don't think there will be any sympathy. If the allegations are proven to be true, I don't think there is anyone who will have anything but abject disgust."
The Clippers' current roster has decided to play on despite the controversy, opting for a silent protest before their playoff game against the Golden State Warriors yesterday. Depending on what happens over the next few months, however, a wildcat strike to start next season is not out of the question. Sterling will have to go. It's just a question of how soon and with how much mess.
Before it's here, it's on the Bloomberg Terminal.
LEARN MORE