pursuits
China's Censors Crack Down on NCIS and The Big Bang Theory
By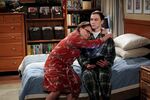 Just as China is getting hooked on American television series, China's nanny censors have pulled the plug.
China's State Administration of Press, Publication, Radio, Film, and Television (shortened to SAPPRFT, like the sound of air coming out of a balloon), has ordered an end to online streaming of The Good Wife, NCIS, The Practice, and The Big Bang Theory. Anyone trying to access the shows got the following message, as of Saturday: "Due to policy reasons, this video is unable to be viewed."
The censorship is part of overall tightening of control of online TV shows and films "to prevent vulgar content, base art form, violence and sexual content in online videos having a negative impact on society," SAPPRT announced on its website last month.
That's a blow to online video sites run by Youku, Tencent, and Sohu. It has also irritated a lot of Chinese viewers and generated a huge amount of derision on the Chinese Net, sparking more than 300,000 comments on Sina Weibo. "SAPPRFT is a bunch of leftovers of the Cultural Revolution," wrote one blogger from Langfang, Hebei on Netease, according to ChinaSMACK, a website that translates Chinese Internet content. Others likened the move to the isolationist policies favored by China's hard-core Stalinist neighbor. "North Korea, hello, big China is coming to keep you company," wrote one commenter on Sina Weibo. "Don't cry, North Korea, for tonight we are all North Koreans," wrote another.
Before it's here, it's on the Bloomberg Terminal.
LEARN MORE