Big Law Firms Raise Profits by Showing Some Partners the Door
A survey shows firms continue to bounce once-untouchable partners
By
In corporate America, when a chief executive decides to cut expenses by reducing head count, it's done. Not so at the nation's biggest and richest law firms, which often face a delicate balance between financial necessity and their management structure as partnerships. "The partnership view is, 'We're all in this together, I can't fire this guy. He was my best man, it's too personal,' " says Joel Henning, a law firm consultant in Chicago. "But that's changing, and law firms are moving more toward the management model."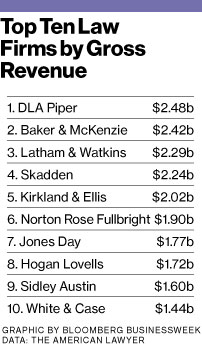 That's evident in the results of the annual financial rankings of the country's largest law firms recently published by American Lawyer magazine. Of the 100 top firms by gross revenue, 50 cut the number of equity (or profit-sharing) partners last year. Meanwhile, nonequity partners, who typically get a base salary, and maybe a bonus, continue to rise as an emerging class in big firms; overall, there was a 7.1 percent increase in that less-lucrative job category at big firms in 2013.
What's causing many law firms to give more of their brethren a polite escort to the door, or a push down a notch, is sheer economics. Equity and nonequity partners share the same title, are often billed out at the same rate and do the same work. But their incomes are very different. Average annual profits for equity partners among the top law firms nationally is $1.47 million. Nonequity partners take home about $457,000 annually. "Nonequity partnerships can be an effective way to offer choices to good lawyers, and they have the added advantage of making the partner profits look better," says Henning. But, he says, they also can be used ineffectively as a dumping ground for underperforming lawyers, who are left to languish there indefinitely.
Per-partner profits, a crucial measure of a firm's performance, have been under pressure since the financial crisis. But firms whose lawyer head count, including partners, dropped in 2013, in most cases saw a rise in per-partner profits. The Wall Street law firm Fried, Frank, Harris, Shriver & Jacobson is one notable example. Goldman Sachs is a longtime client, and the firm's largest; others include Virgin Media and Time Warner. Fried Frank had the biggest increase in per-partner profits last year, 24 percent, to $1.635 million. One factor boosting the number: The firm's overall lawyer head count dropped 5 percent last year, to 450. The number of equity partners also fell by 15, while nonequity partners increased to 15 from seven. The firm did not respond to requests for comment, but it told the American Lawyer the changes were not a result of deliberate moves to reduce the number of equity partners, and that the firm had a busy year.
For most of the 100 firms, the recovery has been slow and inconsistent. After a strong 2012 that had law firm leaders predicting optimistic financial results for 2013, gross revenue last year rose a modest 5 percent, to a collective $77.4 billion.
A group of 20 prestigious law firms, mostly based in New York and with long-standing ties to Wall Street, continue to set themselves apart from the pack by achieving higher-than-average growth, according to American Lawyer data. They include Boies, Schiller & Flexner; Cravath, Swaine & Moore; and Wachtell, Lipton, Rosen & Katz. The 20 account for just 18 percent of all the lawyers at the firms surveyed, but they earn 26 percent of the total fees.
Per-partner profits at these 20 law firms average about $3 million, double the national figure, and head count has held steady from year to year. The major stress faced by most law firms in recent years—increasing client resistance to a rise in hourly billing rates—is not something these firms have had to contend with. Their elite status goes a long way toward bringing more clients through the door, ones willing to pay whatever rate is quoted to them, Henning says.
On the other side of this growing spread are firms with less cache—mostly regional, or more niche practices—that can get the bread-and-butter legal work done at better rates. For these firms, offering clients billing rates that are more attractive is a big advantage. "We're seeing clients do two things in this new environment," says Bruce MacEwen, a New York-based consultant. "There's a flight to prestige, which benefits the [superrich] firms, and a flight to cost-effectiveness."
BOTTOM LINE -
The bottom line: Law firm leaders are increasingly making tougher management decisions to improve the bottom line.
Before it's here, it's on the Bloomberg Terminal.
LEARN MORE