Serb Cabinet Taking Office Vows to Curb Debts, Win Jobs
Gordana Filipovic and Misha Savic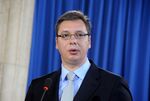 Serbia's new cabinet promised to curb public debt and spending and offer incentives for new jobs as it works to win International Monetary Fund support and push ahead with European Union entry.
Premier Aleksandar Vucic, who was former strongman Slobodan Milosevic's information minister in 1998, and his 19-member cabinet took the oath of office in Belgrade last night. Former Prime Minister Ivica Dacic's Socialists and the Alliance of Vojvodina Hungarians, the biggest ethnic minority party in parliament, also joined a coalition that will wield its two-thirds parliamentary majority to push through policies.
The three-way coalition, which was backed by 198 members of the 250-seat parliament, is preparing a plan to tame public debt, which rose to 63 percent of gross domestic product, the highest level in a decade, and encourage investors to offer jobs in a country where one in four is out of work.
"I don't want to fool you and tell you that it will be easy," Vucic told thousands of supporters in front of the parliament building after the session. "It's necessary to be integrated in global markets and avoid a financial crisis similar to Greece," he said earlier. "We must show investors that we know how to manage our finances."
Vucic and his Serbian Progressive Party, which also counts the nation's president and central bank governor as members, will have the strongest lock on power by a single party since Milosevic was in control.
Austerity Plan
Vucic plans to save about 1.5 billion euros ($2.1 billion) each year during his term with 10 percent wage cuts for state employees, a crackdown on the shadow economy and the closing or overhaul of 153 unprofitable enterprises with almost 60,000 workers that drain about $1 billion a year from the budget. He will also raise the retirement age for women to 63 from 60 and introduce penalties for early retirement.
The Progressives' leaders were once prominent members of the Radical Party led by Vojislav Seselj, who is now awaiting a Hague verdict on charges of war crimes and crimes against humanity.
They now support membership in the EU, a turnaround from the years when they resisted EU demands to give up suspected war criminals, renounce claims on Kosovo, a former province that declared independence, and bring the judiciary into line with EU norms.
EU's foreign policy chief Catherine Ashton met with Vucic in Belgrade today.
Work needs to be done "on the economy of Serbia to ensure that the difficult reforms will bring benefits for the people, to get investment to ensure that economic future of Serbia is as strong as possible," she told reporters. Serbia's EU accession will convince markets that "investing here is a good thing, good for business and good for the people."
Rising Yields
The yield on 10-year Eurobonds, maturing in 2021, fell 4 basis points, or 0.04 percentage point, to 5.537 percent by 3:00 p.m. in Belgrade today, data compiled by Bloomberg show. The extra yield on Serbian dollar notes over Treasuries rose seven points to 314 basis points, or 3.14 percentage points, the highest in nine days, according to JPMorgan Chase & Co. indexes.
The dinar gained 0.1 percent to 115.6313 per euro and the main index of 15 most actively traded assets on the Belgrade Stock Exchange closed 0.07 percent weaker at 584.18 points.
The new government will seek to persuade the IMF to approve a standby loan by the end of June and draw investors back to the largest of the former Yugoslav republics.
Finance Minister Lazar Krstic will need to narrow Europe's highest fiscal gap of more than 7 percent of GDP and Economy Minister Dusan Vujovic will take control of unprofitable enterprises as well as big public companies, cutting off subsidies and trying to find strategic partners for some. Public debt will stabilize at 75 percent of GDP in 2017, Vucic said.
Deficit Narrowing
"It is inevitable to narrow the deficit considering our situation, the size of the debts we have and the interest rates we pay," Krstic told private TV broadcaster Pink today.
The 10 percent cut in base salaries, beginning on July 1, will save about 20 billion dinars ($240 million). The government will try to protect the public sector from too much austerity by stepping up the fight against corruption and organized crime and improving the profitability of public enterprises.
"Serbia still has the potential to be the new reform darling of the region, taking over the mantle from Romania, but it is so important this time around to secure the anchor of an IMF programme, and quickly," Timothy Ash from Standard Bank Plc in London said in a note to investors today.
Serbia hasn't agreed on a new loan program with the Washington-based lender since 2012, when the IMF suspended a deal as Serbia overshot agreed fiscal targets.
Seeking Trust
"If markets and investors don't trust us, we won't be able to recover the economy," Vucic said.
His plan is to build highways, sell Telekom Srbija AD, find minority partners for parts of power monopoly Elektroprivreda Srbije JP, sell parts of Srbijagas JP gas monopoly and grant concession to a company that will manage the Belgrade airport.
The government will also issue a 4G spectrum license, allow a foreign lottery operator and amend law to sell copper miner RTB Bor, he said.
Vucic's promise to overhaul public finances and pursue EU membership has overshadowed bad-loan risks, luring investors into Serbian junk-rated bonds.
Non-performing loans stood at 21 percent at the end of 2013 and could grow further as more enterprises go bankrupt and economic growth slows to 1 percent this year from 2.5 percent in 2013, according to central bank forecasts.
The government will set up a company to buy back bad loans from banks. Participating banks will contribute to the new company's capital together with international financial institutions, he said.
Before it's here, it's on the Bloomberg Terminal.
LEARN MORE