Private Investors Seen Curbing Local Debt Blowout: China Credit
Bloomberg News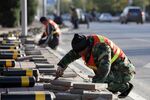 Premier Li Keqiang's invitation for private investors to help finance railways, ports and waterworks will help curb a blowout in regional debt, supporting a rally in local-government financing vehicle bonds.
China will open up bidding for 80 projects in industries now dominated by the state, according to an April 23 government statement citing a meeting chaired by Li. The yield on 2017 notes of Chifeng City Infrastructure Investment & Development Co., a road-building LGFV in Inner Mongolia, fell 124 basis points this year to 6.40 percent, exchange data show.
"As long as the infrastructure project's cash flow is certain, private capital would be willing to invest," said Li Ning, a bond analyst in Shanghai at Haitong Securities Co., the nation's second-biggest brokerage. "With the government rolling out measures to support local financing, investors are treating LGFV bonds as safe-haven assets."
Lower borrowing costs are helping regional authorities as they grapple with a slowing economy and a record 17.9 trillion yuan ($2.86 trillion) pile of debt that helped fund spending on roads, bridges and subways after the global financial crisis. LGFVs, which issued the most bonds since 2012 last quarter, are under pressure to help pay for Premier Li's plan to build 36 million low-cost homes in five years.
'Policy Signal'
Following the initial 80 projects, the government will promote the opening of other sectors, including oil and gas exploration, utilities, waterworks and airports to private capital, according to the State Council's statement.
"The recent moves send a policy signal," said Qiu Xinhong, a fund manager in Guangzhou at Golden Eagle Asset Management Co., which oversees 13.9 billion yuan of assets. "The government is seeking to lower local governments' borrowing costs and slow the buildup of debt."
Regional governments in the world's second-largest economy have established more than 10,000 local financing units to fund construction projects after they were barred from directly issuing bonds under a 1994 budget law. Local governments are responsible for 80 percent of spending while they get only about 40 percent of tax revenue, the legacy of a 1994 tax-sharing system, the World Bank said.
While the level of local government debt is still "manageable," policy makers need to slow the increase, Markus Rodlauer, deputy director of the Asia-Pacific department at the International Monetary Fund, said at an April 12 briefing. Transfering the debt load from the local to central government in "one stroke" would create "moral hazard" and encourage local authorities to borrow even more, he said.
Slowing Forecast
LGFVs issued 370 billion yuan of notes this year, the most in the same period since at least 2002, according to data compiled by Bloomberg on 2,450 so-called Chengtou bonds. The bulk of their debt now matures in 2019, with 451.3 billion yuan due, compared with just 47.4 billion in the rest of this year.
Haitong Securities' Li said local governments will have less need to borrow as new financing channels are added.
"In the long run, local governments, which are the main financial source of regional infrastructure projects, may sell fewer bonds through their financing vehicles," Li said.
Authorities have prioritized steps to wean borrowers from excessive credit, and refrained from intervening when Shanghai Chaori Solar Energy Science & Technology Co. failed to make a coupon payment last month in the first onshore note default.
That's pushed credit-default swaps insuring the nation's debt against non-payment up 12.5 basis points this year to 92.5 basis points, as expansion in gross domestic product cooled to 7.4 percent in the first quarter, the least in six quarters.
Returns Questioned
Benchmark borrowing costs have risen, with the yield on China's five-year sovereign note up 83 basis points over the past year to 4.02 percent. The premium investors demand to hold AA rated similar-maturity corporate securities has climbed 45 basis points over the same period to 291.5 basis points. AA is the most common rating for LGFVs.
China is headed for a "mini crisis" in its local-government debt market as economic reforms lead to the first defaults, Li Daokui, former adviser to the People's Bank of China, said on March 25. "Defaults must be allowed to restructure the debt, which will definitely happen as part of the reform measures in the second half," he said.
The government may struggle to attract private financing for any unattractive infrastructure projects, according to Golden Eagle's Qiu. "I'm not sure if private capital will be interested in investing in infrastructure projects because returns may not be high enough," he said.
Policy Shifts
Leaders are implementing the most sweeping economic-policy shifts since the 1990s while trying to sustain growth close to a target of 7.5 percent this year. That includes plans to fold military hardware developers into publicly traded companies and the biggest asset injection into a Hong Kong unit from China.
"Allowing private investors to invest in infrastructure projects can kill two birds with one stone," said Xu Hanfei, a bond analyst in Shanghai at Guotai Junan Securities Co., the nation's third-biggest brokerage. "It may help control the build up in local government borrowings while stemming the slowdown in the economy."
China's legislature is considering budget law revisions that may pave the way for local governments to sell bonds directly, the official Xinhua News Agency reported on April 21. Provincial-level governments would be able to issue bonds within a quota set by the State Council, the report said.
"Municipal governments' only source of revenue is from selling land or tax," said Beijing-based Kwong Li, chief executive officer of China Lianhe Credit Rating Co., a Fitch Ratings Ltd. venture. "As a country develops, municipal governments, in order to achieve objectives handed down from the central government, need to have other funding sources."
Qiu said allowing local governments to sell bonds directly will cut costs and ease their financing burden.
"I am most bullish on LGFV bonds," he said.
— With assistance by Judy Chen
Before it's here, it's on the Bloomberg Terminal.
LEARN MORE