Detroit Gets Closer to Bankruptcy's End With Retiree Deal
Steven Church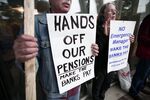 Retired public workers reached a tentative agreement with Detroit that shores up their health benefits, removing another obstacle to resolving the city's record $18 billion municipal bankruptcy.
Michigan's largest city filed for bankruptcy in July saying it couldn't meet financial obligations and provide adequate services. Since then, it's been negotiating with creditors including public pension systems and unions.
Detroit has been seeking to build support for a debt-adjustment plan ahead of a creditor vote that could begin as early as next month. Kevyn Orr, its emergency financial manager, has said he hopes the city could exit bankruptcy in October.
Yesterday, a committee of retirees announced that it had reached a deal with the city. Shortly after that, Detroit filed a new debt-cutting proposal, describing agreements with the two pension funds that operate the retirement plans for 30,000 active and retired municipal workers.
If enough city workers and retirees support the revised plan, police and firefighters would receive all of their normal monthly retirement payments, while general employees would see their monthly payments reduced by 4.5 percent. A previous version of the plan proposed cuts of 6 percent and 26 percent, respectively.
Retiree Committee
The nine-person retiree committee, which includes representatives of municipal unions, kept bargaining for improvements to health-care benefits after the city's two pension systems and an association of police and firefighters cut deals with the city, according to Sam Alberts, an attorney for the panel.
"We wanted to fill the holes that were left," Alberts said today in an interview.
Under the deal, the city will increase the amount of money it puts into a health-benefits plan for current retirees to about $450 million from about $280 million, he said.
The city also agreed to limit the amount of money it will claw back from retirees who were allegedly overpaid by the retirement system, according to Alberts.
Orr, who was appointed last year by Michigan's Republican governor, Rick Snyder, said the deal was the result of "many months of difficult and complicated negotiations."
'Fair' Plan
"It is fair, we believe, and puts the city that much closer to emerging from bankruptcy solvent, more credit-worthy and better able to provide basic services to its nearly 700,000 residents," Orr said in a statement.
State political leaders and a group of foundations have promised to give the city $816 million to bolster the two underfunded pensions, but only if a plan can win support from employees and shield the city-owned works housed at the Detroit Institute of Arts from being sold to pay creditors.
Retired city workers and current employees will be asked to vote on the deal. The plan also requires approval by U.S. Bankruptcy Judge Steven Rhodes. A trial is set for July to assess whether the plan complies with bankruptcy law.
Bond insurer Financial Guaranty Insurance Co. is leading a group of creditors that oppose the art deal, arguing that the city could get more money by either selling the works, or using them as collateral for a $2 billion loan. The creditors hired investment bank Houlihan Lokey to solicit offers for the thousands of pieces in the art institute.
Four Offers
Earlier this month, the creditors asked Rhodes to force the city to cooperate with their effort to explore four potential offers brought in by Houlihan.
The city appraised only a small portion of the institute's collection, so there could be value left in artwork that wasn't considered, FGIC said in court papers.
Orr has dismissed the art-sale proposal, saying "Detroit should not have to denude itself."
The creditors have also said it would be unfair to use money raised through the state and foundations exclusively for pensions. Rhodes hasn't ruled on the creditors' request.
FGIC and other bond insurers would be forced to cover losses on debt they covered should the city's plan win court approval.
Under yesterday's proposals, general employees will no longer get annual cost of living increases to their pensions and police and firefighters will have their adjustments cut by more than half.
Plan Recovery
The changes to the two retirement plans mean the two pension systems will recover about 60 percent of what the city owes them, according to a disclosure statement describing the proposal.
Another agreement announced this month would pay investors who hold unlimited general obligation bonds 74 percent of the $388 million they are owed. Some of the savings will be used to keep retirees above the federal poverty line.
The city also agreed to restore some pension cuts should financial circumstances improve, Alberts said. The extra money for health care should allow retirees to keep their current care for life, he said.
The case is In re City of Detroit, 13-bk-53846, U.S. Bankruptcy Court, Eastern District of Michigan (Detroit).
Before it's here, it's on the Bloomberg Terminal.
LEARN MORE