With Union Ballots Cast by Northwestern Football Team, Real Contest Is Just Beginning
By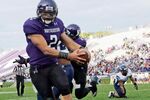 This morning in Evanston, Ill., football players at Northwestern University voted on whether to form a union. The results of that vote will not be known right away—and might never be known—but the event itself marks something of a watershed for the big business of college sports.
The National Labor Relations Board ruling that made the vote possible faces an appeal by the university, and the results of the vote will hinge on fate of the appeal and, quite likely, subsequent appeals. For now, the vote results are sealed. If the NLRB review board decides to overturn the original ruling, they will never be made public.
Still, just the act of voting was a big enough deal to prompt many at Northwestern, including the football coach and some university administers, to openly push for "no" votes. Football players "were given new iPads when they arrived for the first day of practice after the NLRB decision," according to a New York Times report on these efforts, ostensibly to make them feel like they didn't need a union to get good treatment.
But the vote matters much less than the ruling that made it possible, which establishes college athletes as employees who happen to be students instead of students who happen to play a sport. If it withstands all challenges, players at any private university could decide to form a union, and eventually some would. Unions would likely become the wedge that pries apart the amateur model.
If the ruling falls, meanwhile, it won't erase the threats facing the amateur model. The damage will probably come from elsewhere. It could be from labor lawyer Jeffrey Kessler's antitrust case against the NCAA and the major conferences for unfair labor restrictions, or it could be reform from within or some other challenge yet to be lodged.
The blows are coming in rapid combinations now, and the NCAA looks more and more wobbly after each one.
Before it's here, it's on the Bloomberg Terminal.
LEARN MORE