WG Trading's Walsh Guilty in $554 Million Investor Scam
Patricia Hurtado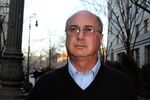 WG Trading Co. money manager Stephen Walsh pleaded guilty to swindling investors out of $554 million over 13 years, a scheme in which client cash funded a lavish lifestyle of cars, horses and expensive collector teddy bears.
Walsh, of Sands Point, New York, was first charged in 2009 with Paul Greenwood, WG's former general partner. The two men, former minority owners of the New York Islanders professional hockey team, used their commodities trading and investment advisory firm to steal from institutional investors including university foundations and charities from 1996 to 2009.
Walsh, 69, entered his plea today before U.S. Magistrate Judge Kevin Nathaniel Fox in Manhattan. Greenwood, who pleaded guilty in 2010, was to testify against Walsh at his July trial.
The men solicited $7.6 billion in investor funds to invest in "equity index arbitrage," the government said today in a statement, "a conservative trading strategy that had outperformed the results of the S&P 500 Index for more than 10 years." Walsh told the judge his firm "operated as a fraud and defrauded investors," admitting that he issued promissory notes for "tens of millions of dollars" to conceal the conspiracy.
Stuffed Animals
Walsh and Greenwood used the money to buy horse farms, automobiles and collectible Steiff teddy bears. Greenwood's collection of stuffed animals and toys later sold at auction in London for 1.1 million pounds ($1.75 million), and included a Steiff "Harlequin" bear, dating from about 1925. The bear featured alternating halves of red and blue plush.
A court-appointed receiver said Greenwood had agreed to sell a 286 acre horse farm in upstate New York.
The two men "ran an investment operation that was a veritable money-making machine-–for them," Manhattan U.S. Attorney Preet Bharara said in the statement. "Their purported investing strategy wasn't nearly as effective as their fraudulent sales pitch to investors."
Walsh faces as long as 20 years in prison at his July 29 sentencing. As part of his plea agreement, he will forfeit $50.7 million, the amount of money he earned in the fraud. Walsh declined to comment after the hearing and remains free on bond. Greenwood has yet to be sentenced.
Regulator Lawsuits
Their scheme continued until February 2009, when they obtained a $21 million investment from the University of Pittsburgh, according to the Securities and Exchange Commission and the Commodity Futures Trading Commission, which sued them that year.
Greenwood agreed to forfeit at least $331 million to the government, representing the money he and Walsh obtained from the fraud. He also agreed to pay the U.S. $83.5 million, the proceeds he "personally obtained" as a result of the fraud, according to court papers. The SEC and CFTC lawsuits against Walsh are pending.
In January, Deloitte & Touche LLP won dismissal of a lawsuit filed by an Iowa pension fund over the auditing of WG.
The Iowa Public Employees' Retirement System had alleged that it suffered millions of dollars in losses as a result of a Ponzi scheme operated by Greenwood and Walsh.
The criminal case is U.S. v. Walsh, 09-cr-00722; Securities and Exchange Commission v. WG Trading Investors LP, 09-cv-1750; Commodity Futures Trading Commission v. Walsh, 09-cv-1749, Southern District of New York (Manhattan).
Before it's here, it's on the Bloomberg Terminal.
LEARN MORE