pursuits
The Nation's First Cat Cafe Comes to New York
By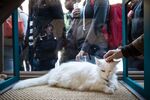 As the city that never sleeps, New York has a seemingly unquenchable thirst for decent coffee, a fact not lost on the likes of Starbucks, Dunkin' Donuts, and, most recently, Purina ONE, which opened the continent's first pop-up cat café yesterday on Manhattan's Lower East Side. The point—beyond OMG kittens—is to introduce coffee-drinking customers to felines up for adoption.
Cat cafés are popular in Japan, but this is the first time one has appeared in the U.S. It's a brilliant gimmick by the cat-food brand (owned by Nestlé Purina PetCare), which, according to the Wall Street Journal, has drawn people willing to wait on line for more than an hour for the opportunity to pet a cat while enjoying a cup of joe somewhere other than on their own couches.
Which isn't to say the marketing effort is without charitable impact: By the end of the café's opening day, at least one of the 16 cats had been adopted from the North Shore Animal League America, and the Port Washington (N.Y.) shelter will park a truck full of other adoptees outside the café on Saturday.
Concerned about cat hair in your scone? Not to worry—to comply with food-safety regulations, baked goods are prepared off site and served in a room apart from the furry crew. As for your coffee, well, perhaps best to keep a lid on it.
The pop-up will remain open through Sunday.
Before it's here, it's on the Bloomberg Terminal.
LEARN MORE