Serb PM to Name Cabinet Pursuing Fiscal Restraint, EU
Gordana Filipovic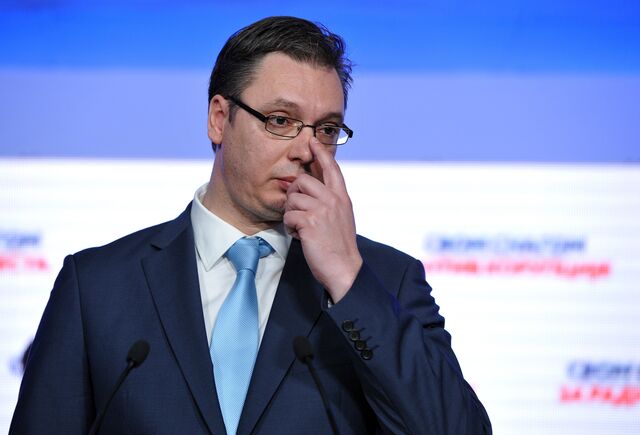 Serbia's designated premier, Aleksandar Vucic, will announce cabinet ministers before taking office on April 27, promising savings to consolidate public finances as the country works to join the European Union.
Vucic will make the announcement later today as his Serbian Progressive Party, which controls 158 of 250 seats in parliament after March 16 elections, meets in Novi Sad, Serbia's second-biggest city 80 kilometers (43 miles) north of Belgrade. His cabinet will have 16 ministries.
Vucic wants to keep Lazar Krstic as finance minister, while former central bank Governor Kori Udovicki is also expected to join the government. Outgoing Prime Minister Ivica Dacic's Socialists and the Alliance of Vojvodina Hungarians, the biggest ethnic minority party in parliament, will be part of the coalition, which will wield its two-thirds parliamentary majority to push through austerity measures.
"We do not see any room for back-pedaling" in government promises, "which will hopefully be used to implement sorely needed fiscal and structural reforms and to change the constitution to bring it into alignment with EU norms," UniCredit economist Carlos Ortiz said in April 24 note to clients.
The yield on Serbia's 10-year Eurobonds, maturing in 2021, fell 2 basis points, or 0.02 percentage point, to 5.472 percent on April 24, according to data compiled by Bloomberg. The extra yield on Serbian dollar notes over Treasuries rose 1 basis point to 306, or 3.06 percentage points, the highest in nine days, according to JPMorgan Chase & Co. indexes.
IMF Goal
The new administration will have the strongest lock on power by a single party since Slobodan Milosevic was in control. Vucic will seek to persuade the International Monetary Fund to approve a standby agreement by the end of June and draw investors back to the biggest of the former Yugoslav republics.
Serbia needs to consolidate public finances through wage cuts, a crackdown on the shadow economy and the closure or overhaul of 153 public companies with around 60,000 workers that drain nearly $1 billion a year from the budget. The plan would help the country win a $250-million loan from the World Bank, Vucic said on April 14.
Public debt rose 1.7 percentage points in January and February to 63 percent of gross domestic product and the two-month budget deficit reached 33.4 billion dinars ($399 million) against a 183 billion-dinar full-year target, according to the Finance Ministry.
The government's cash reserves with the central bank shrank by $500 million since January to $2.8 billion at the end of March, central bank data show.
Before it's here, it's on the Bloomberg Terminal.
LEARN MORE