RBS Drops Plan to Lift Bonus Cap Amid Government Opposition
Sarah Jones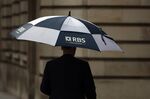 Royal Bank of Scotland Group Plc, the U.K.'s biggest publicly-owned lender, abandoned plans to seek shareholder approval to pay bonuses of as much as twice fixed pay after the government said it would veto the proposal.
U.K. Financial Investments Ltd., which manages the Treasury's stake in RBS, will vote against "any resolution" proposing a 2:1 ratio, the bank said in a statement today. The government, which faces a general election next year, still owns 80 percent of the lender after bailing it out in 2008.
"This appears purely political," said Christoper Wheeler, a banking analyst at Mediobanca SpA in London. "RBS will have to push up the fixed compensation element, which will hurt the business and hence shareholders."
Under European Union rules aimed at preventing a repeat of the financial crisis, lenders will be barred from paying bonuses of more than twice fixed pay and required to seek shareholder approval to pay bonuses that exceed base salary. For banks, the rules make it harder for them to retain staff in some of their most profitable units without boosting fixed costs.
Barclays Plc, Britain's second-largest lender by assets, yesterday received shareholder approval to make awards of up to twice fixed pay, and Deutsche Bank AG is among European competitors preparing to seek investors' permission.
Commercial Risk
"The board believes the best commercial solution for RBS is to have the flexibility on variable to fixed pay ratios that is now emerging as the sector norm," Edinburgh-based RBS said. "This outcome creates a commercial and prudential risk which it must try to mitigate."
Some firms are seeking to mitigate the impact of the rules by increasing base pay, allowing them to pay more in bonuses. Both RBS and HSBC Holdings Plc have said they will introduce allowances that are neither salary nor bonus to boost fixed remuneration under the rules.
The government said it will, in contrast, back proposals by Lloyds Banking Group Plc, Britain's second-biggest publicly owned bank, to pay bonuses of as much as twice fixed compensation, because it has "largely completed" its restructuring since its bailout.
The government sold a 4.2 billion-pound ($7.1 billion) stake in Lloyds last month, cutting its stake to less than 25 percent. The Treasury is yet to reduce its RBS stake and the shares still trade below the 407-pence price at which the government says it would break even on its holding.
"RBS is heading in the right direction, but it has not yet completed its restructuring and remains a majority publicly-owned bank," the Treasury said in a statement. "An increase to the bonus cap cannot be justified."
RBS is struggling to return to profit: in February, the lender posted its biggest full-year loss since its bailout as it logged more than 12 billion pounds in charges for souring loans, customer compensation and legal costs. The bank set aside about 237 million pounds for bonuses at its markets division, down from 287 million pounds in 2012.
Before it's here, it's on the Bloomberg Terminal.
LEARN MORE