Plouffe Sees Hillary Clinton Crowding Out Other Democrats
Lisa Lerer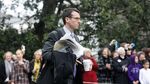 No Democrat will likely be able to mount a serious challenge to Hillary Clinton in the next presidential campaign if she decides to run, David Plouffe, President Barack Obama's former top political adviser, said.
Plouffe, who was a strategist for both of Obama's presidential campaigns and served as a senior adviser in the White House, said "there's very little oxygen" for another Democrat to challenge the former secretary of state in the 2016 presidential primaries.
"If someone runs, it's really to just try and set themselves up for the future," Plouffe said in an interview on Bloomberg Television's "Political Capital with Al Hunt," airing this weekend. "Build their name, get a show on MSNBC."
Former New Hampshire Senator John Sununu, a Republican appearing on the same program, echoed Plouffe's assessment of the Democratic field and said the lack of a competitive primary could hurt Clinton's chances in a general election.
"Don't suggest that a coronation is a good thing for the candidate," he said. "There's a certain value to being put through the paces."
He cited past successful presidential nominees, including Obama, whose months-long race against Clinton in 2008 made him a stronger candidate against Arizona Senator John McCain, the Republican nominee.
Clinton already has the backing of an experienced fundraising team, veteran voter-turnout specialists from Obama's 2012 re-election campaign and endorsements by some of the biggest Democratic names, through a super political action committee started by supporters last year.
Money Raised
The PAC, named "Ready for Hillary," has raised $5.7 million from about 55,000 donors, even though the 66-year-old former first lady, senator and top U.S. diplomat hasn't announced her intentions.
Vice President Joe Biden said last week he hasn't decided whether to seek the 2016 Democratic nomination. Maryland Governor Martin O'Malley has said he is considering entering the contest.
In the Republican race, Sununu said there are some governors, including Ohio's John Kasich, who would be "well-positioned" to challenge Clinton. He also said Senator Rand Paul of Kentucky shouldn't be underestimated.
Other potential Republican contenders include former Florida Governor Jeb Bush, the brother of former President George W. Bush, New Jersey Governor Chris Christie and Senator Marco Rubio of Florida.
The Republican primary race, Plouffe said, could run "deep into May or June."
Before it's here, it's on the Bloomberg Terminal.
LEARN MORE