Philadelphia Inquirer Headed for Auction Block
Sophia Pearson and Jef Feeley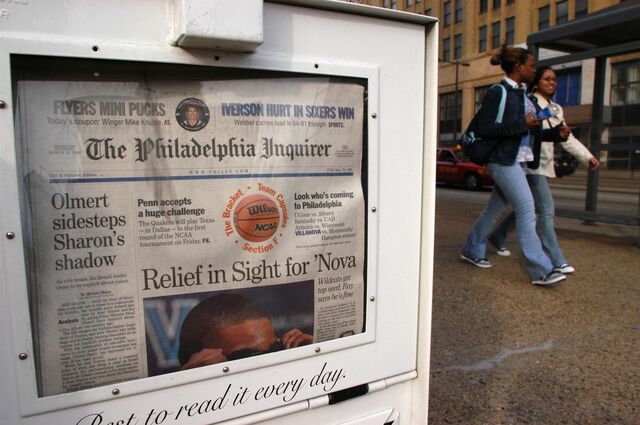 The Philadelphia Inquirer and its sister publication must be sold at a private auction limited to the company's owners, a judge ruled after months of feuding among the partners in the two newspapers.
The Inquirer must be sold no later than May 28 at an auction with a minimum bid of $77 million, enough to cover the original purchase price and satisfy outstanding debt, Delaware Chancery Judge Donald Parsons said yesterday. He also ordered that Interstate General Media LLC, the company that owns the newspaper, be dissolved.
The ruling comes after months of dispute between Lewis Katz, the former owner of the New Jersey Nets basketball team, and George Norcross, a New Jersey insurance executive, over the direction of the Inquirer. Both men were part of an investor group that bought that paper and the Philadelphia Daily News in April 2012 for $55 million.
Last year, they sued each other over the decision to fire Bill Marimow, the Inquirer's editor-in-chief. Katz alleged that Marimow, a two-time winner of the Pulitzer Prize, was terminated without the necessary approval of the entire partnership. Norcross countered that Katz couldn't interfere in newsroom decisions.
Dan Fee, a spokesman for Norcross, said the members-only sale process is just as stipulated in an original agreement between the owners.
Looking Forward
"Mr. Norcross looks forward to the bidding process, and if he is successful, restarting the progress the company was making before being derailed by this litigation," Fee said in a statement.
Collins J. Seitz Jr., an attorney for Katz, is studying Parsons' decision and determining what to do next, according to an e-mail from spokesman Jay Devine.
Bill Ross, executive director of the union that represents some Inquirer editorial employees, didn't immediately return a call yesterday after regular business hours seeking comment on the decision.
The Inquirer, founded in 1829, is the third-oldest daily newspaper in the U.S. and has won at least 18 Pulitzer Prizes. The Inquirer and the Daily News had a common owner starting in 1969, when they were bought by Knight Newspapers Inc. That newspaper chain no longer exists.
The case is In re Interstate General Media Holdings LLC, CA9221, Delaware Chancery Court (Wilmington)
Before it's here, it's on the Bloomberg Terminal.
LEARN MORE