Oregon's Plan B: Ditch Its Own Health Exchange, Join Healthcare.gov
By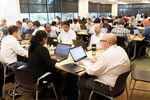 Oregon spent $303 million to build a health insurance exchange, and yet the website never properly worked. As the 2014 enrollment period came and went, residents looking for coverage under Obamacare resorted to paper. It wasn't the only state-run exchange mired in problems, but Oregon's website appears likely to be the first abandoned entirely in favor of joining the federal exchange.
Many state-run exchanges have blown past initial estimates of how many people would sign up for private plans. California and Connecticut, for example, each surpassed expectations by more than 60 percent, according to data compiled by Charles Gaba at ACASignups.net. On the troubled exchanges, however, sign-ups have been much meeker. Nevada fell 40 percent short of initial estimates, and Maryland did just slightly better.

Oregon reviewed 10 different options for how to ensure residents have a solid, functioning option come November, when next year's enrollment period opens. It focused (PDF) on three paths: keep the current technology but hire a new outside vendor; adopt another state's working technology (paging Connecticut!); or take on the federal exchange. Using healthcare.gov cost far less than the alternatives. It might cost the state $6 million to connect to the federal website, while hiring a new vendor carried an estimated $78 million price tag.
Other states are also taking stock of what's to come. Nevada hired Deloitte to evaluate its options. Maryland is ditching its website in favor of Connecticut's technology. Massachusetts dumped its outside vendor and brought on a new one, and Minnesota has done the same.
November may seem far away, but for a major tech project, it's just around the corner. Oregon decided it was time for the proverbial Plan B.
Before it's here, it's on the Bloomberg Terminal.
LEARN MORE