Kerry Puts His Mideast Peace Effort Into 'Holding Period'
Terry Atlas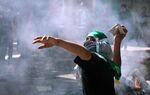 U.S. Secretary of State John Kerry has put his nine-month quest for an Israeli-Palestinian peace accord on indefinite hold, though his spokeswoman denied yesterday that his effort has been a failure.
Earlier, President Barack Obama said the Mideast conflict has been going on "for 60, 70, 80 years. We didn't anticipate that we were going to solve it during the course of a six- or nine-month negotiation."
Yet, that was the goal Kerry announced last July 30 when he launched his peacemaking effort, saying "our objective will be to achieve a final status agreement over the course of the next nine months."
Kerry subsequently scaled back his ambitions, first to producing a "framework" for an eventual settlement, and then to creating a minimal basis for continuing the talks beyond the initial nine-month period, which ends April 29.
This week, officials have sought to shift the focus from the inconclusive U.S. effort to what Obama criticized as a "lack of political will" by Israeli Prime Minister Benjamin Netanyahu and Palestinian Authority President Mahmoud Abbas.
During the nine months, Kerry shuttled between the two leaders, or spoke to them separately on the phone, because U.S. officials didn't want to risk a premature breakdown by bringing the two together.
"We're at a point where the parties need to figure out what's next," State Department spokeswoman Jen Psaki said yesterday. "We'll still remain in touch with them, but it is on them."
'Unhelpful Steps'
Kerry agrees with Obama "that the Israelis and the Palestinians have both taken unhelpful steps," Psaki said. While she declined to say how long the diplomatic "pause" will last, Obama said yesterday during a visit to Seoul that he didn't see prospects for a deal in the near future.
"Folks can posture, folks can cling to maximalist positions, but realistically there's one door, and that is the two parties getting together and making some very difficult political compromises in order to secure the future of both Israelis and Palestinians for future generations," Obama said. "Do I expect that they will walk through that door next week, next month or even in the course of the next six months? No."
The Palestinian Stock Exchange Index's rebound late last year into early this year reflected a wave of optimism about the peace process, the exchange's Chief Executive Officer Ahmad Aweidah said in January. The market index has fallen about 12 percent from its Feb. 2 high.
Earning Respect
One Arab diplomat said that Kerry, even if unsuccessful, earned respect in Arab capitals for the energy he put into seeking a deal. The diplomat, asking that he not be named because he wasn't authorized to comment on the topic, said he regards Kerry's effort as sincere and thinks he will continue to be respected in the region.
Kerry has traveled to the region more than a dozen times and spent many hours with the two leaders in person and on the telephone. Last last year, he drew criticism in Israel when he said a breakdown in the talks could provoke a violent Palestinian uprising.
Kerry has struggled to keep the talks alive in recent weeks as they began to unravel when Netanyahu held up the promised release of Palestinian prisoners and Abbas countered by signing applications for the "State of Palestine" to join 15 international treaties and conventions.
Both Israel and the U.S. oppose the Palestinians using the United Nations to gain statehood recognition, saying that's part of the two-state solution to be negotiated with Israel.
Final Blow
The final blow came this week as a result of an agreement between Abbas' Fatah faction in the West Bank, which has been negotiating with Israel, and the militant Islamic group Hamas, which rules Gaza and is considered a terrorist organization by Israel, the U.S. and European Union. The deal calls for forming a joint government within five weeks and holding elections within six months.
In suspending participation in peace talks, Netanyahu said Abbas "signed an agreement with a murderous terrorist group that calls for Israel's destruction."
"Whoever chooses Hamas's terror doesn't want peace," he said in a text message.
Obama called Abbas' decision to rejoin talk with Hamas an "unhelpful step" and said it was "just one of a series of choices that both the Israelis and the Palestinians have made that are not conducive to trying to resolve this crisis."
"I make no apologies for supporting Secretary of State Kerry's efforts -- tireless efforts -- despite long odds, to keep on trying to bring the parties together," Obama said.
Slim Hope
If any glimmer of hope remains, it may lie in signals from Abbas suggesting that a new Palestinian government would recognize Israel and seek an agreement to establish a Palestinian state alongside Israel -- a major departure from Hamas' longstanding position.
Abbas told reporters today in Ramallah that the new government would abide by all previous understandings agreed to by the Palestinian Authority, and de facto would recognize Israel's right to exist because that is his longstanding position. He also left open the door for further talks if Israel releases the Palestinian prisoners and also freezes all new building in east Jerusalem and West Bank settlements, a condition Netanyahu has steadfastly refused to accept.
Psaki said Kerry remained in touch as recently as April 24 with both leaders, and as of yesterday the U.S. negotiating team led by envoy Martin Indyk remains in the region. Psaki said she doesn't anticipate any statement by Kerry when the current negotiating window closes April 29, when he's scheduled to leave Washington on an Africa trip.
"We have an enormous amount on the plate, and we're currently engaged in discussions with the Russians with respect to Ukraine, challenges in Iran, Syria, and other parts of the world," Kerry said April 5 in Morocco. "There are limits to the amount of time and effort that the United States can spend if the parties themselves are unwilling to take constructive steps in order to be able to move forward."
Before it's here, it's on the Bloomberg Terminal.
LEARN MORE