Japan's Topix Rises as Inflation Data Spur Stimulus Bets
Anna Kitanaka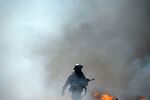 Japanese shares rose, with the Topix index paring its weekly decline, as investors weighed corporate earnings and weaker-than-expected consumer-price gains spurred bets of additional monetary easing.
Honda Motor Co., which gets about 80 percent of sales abroad, added 1 percent, after rising as much as 1.9 percent and dropping 0.4 percent as the yen fluctuated. Hitachi Construction Machinery Co. added 1.2 percent after net income jumped 56 percent. Denso Corp., a maker of electronic parts for cars, closed little changed after sinking as much as 3.8 percent on saying its profit forecast missed estimates.
The Topix rose 0.4 percent to 1,169.99 at the close in Tokyo, paring gains of as much as 1.1 percent in the afternoon as the yen erased losses spurred by the inflation data. The gauge slid 0.3 percent this week. The Nikkei 225 Stock Average added 0.2 percent today to 14,429.26.
"The inflation data has helped shape the path toward additional easing," said Tomomi Yamashita, who helps oversee the equivalent of $5 billion at Shinkin Asset Management Co. in Tokyo. "If you remove the effects of the sales-tax increase, it hasn't really increased much. The yen weakening on expectations for extra easing is also a tailwind for Japanese shares."
Consumer prices excluding fresh food in Tokyo rose 2.7 percent from a year earlier in April, pumped up by a sales-tax increase at the start of the month. The figure was less than the 2.8 percent median estimate of 27 economists surveyed by Bloomberg News. Nationally, the equivalent gauge climbed 1.3 percent in March, the same as the previous month, statistics bureau data showed today. Analysts polled by Bloomberg had expected an increase of 1.4 percent.
Stimulus Speculation
"Today's CPI was a little below consensus, which increased expectations for additional easing," said Soichiro Monji, chief strategist at Tokyo-based Daiwa SB Investments Ltd. "During the break, Denso reported earnings that were worse than expected. If it isn't just an issue with them, it could have an effect on other companies in the sector. But earnings are mixed overall."
Denso shrugged off a decline of as much as 3.8 percent to close little changed at 4,794 yen. The company forecast net income of 248 billion yen for the current fiscal year, missing estimates for 295.7 billion yen in profit.
About 160 companies on the Topix reported earnings this week, with more than 200 poised to do so next week. Of the 158 companies on the gauge that posted results and for which Bloomberg has estimates, 58 percent beat analyst predictions for sales.
Hitachi Construction gained 1.2 percent to 1,902 yen. The company forecast annual income would rise 56 percent to 45 billion yen. Analysts had expected 32 billion yen in profit.
Yen Swings
The Topix opened lower today after the yen gained against the dollar amid mounting haven demand as tensions escalated in Ukraine. The gauge swung to a gain in the morning session as the Japanese currency weakened after the inflation data. The Topix pared its advance in the afternoon as the yen recouped losses.
Honda added 1 percent to 3,470 yen. Toyota Motor Corp., the world's biggest carmaker, climbed 0.5 percent to 5,494 yen. Panasonic Corp. added 1.5 percent to 1,128 yen.
Russian President Vladimir Putin warned Ukraine against continuing an anti-separatist offensive. The agreement to disarm rebels signed last week in Geneva by Ukraine, Russia, the European Union and the U.S. is on the brink of collapse. U.S. Secretary of State John Kerry cautioned that Russia was running out of time to comply with the accord, as Russian forces began new military exercises on the border of Ukraine.
"It seems that Russia has not taken a single concrete step," said Stuart Beavis, head of institutional equity derivatives at Vantage Capital Markets in Hong Kong. "The window is closing and, as Kerry said, the U.S. is ready to act. The situation is getting increasingly tense."
Tech Rally
Futures on the Standard & Poor's 500 Index slipped 0.1 percent today. The measure closed near a record yesterday as technology companies rallied after Apple Inc. results topped estimates to offset a slump in phone shares.
Nissan Chemical Industries Ltd. climbed 3.2 percent to 1,580 yen on a report the company and Kyoto University developed a way to cultivate induced pluripotent stem cells.
Terumo Corp. sank 5.3 percent to 1,982 yen after a U.S. regulator said the medical-equipment maker needs further improvements at a factory in Michigan.
The Topix traded at 1.15 times book value today, compared with 2.64 for the S&P 500 and 1.89 for the Stoxx Europe 600 Index yesterday. Volume on the Japanese gauge was 2.1 percent lower than the 30-day average today.
Before it's here, it's on the Bloomberg Terminal.
LEARN MORE