Japan's Ruling LDP to Weigh Loosening Consumer-Lending Law
Monami Yui and Takako Taniguchi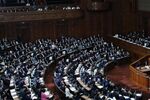 Japan's ruling party is considering loosening restrictions on the consumer-finance industry to provide more options for borrowers to obtain credit, according to a lawmaker who is pushing the initiative.
Liberal Democratic Party member Masaaki Taira, 47, said he will lead a new panel that will start discussing the matter next month. Japan should consider scrapping the part of a law that limits credit to a third of a borrower's income, Taira said in an interview in Tokyo yesterday. He also wants to raise the ceiling on interest rates back to 29.2 percent from 20 percent to encourage consumer lenders to make more loans.
Shares of companies including Aiful Corp. and Acom Co. rose on speculation that the move would bolster profit that has been dented by the legislation, which took full effect in 2010 as part of a crackdown on coercive lending. Taira said the limits on consumer loans make it harder for some businesses to grow and could hamper Prime Minister Shinzo Abe's economic revival plan.
"It's nonsense to rob business owners of opportunities with the regulations on interest rates and credit amounts," Taira said. "The only way non-banks can cover risks for small and short-term loans made without collateral is by charging higher interest."
Aiful jumped 14 percent, the most in seven months, to 400 yen at the close in Tokyo. Acom, partly owned by Mitsubishi UFJ Financial Group Inc., rose 5 percent. Aplus Financial Co., a unit of Shinsei Bank Ltd., gained 6.3 percent.
Interest Refunds
Consumer-finance firms were forced to refund billions of dollars in overcharged interest to borrowers since a court ruling in 2006. Shares of Acom, Japan's largest consumer lender, lost almost half their value since the clampdown began that year, and Aiful slumped more than 90 percent.
Net income at Acom fell 73 percent to 10.6 billion yen ($104 million) in the year ended March 31, the Tokyo-based company said in a preliminary earnings report after the close of trading today. Aiful's full-year profit rose 34 percent to 30.4 billion yen, the Kyoto-based firm reported today, also on a preliminary basis.
There is a "high hurdle" to loosen the law, in part because Japan's Supreme Court ruled that rates above 20 percent are illegal, Yoshinobu Yamada, an analyst at Deutsche Bank AG in Tokyo, said by phone today. Even if the law was revised and complied with judicial precedent, "we do not think interest rates above 20 percent would be good news for small business."
Predatory Lending
To prevent predatory lending, consumer lenders should be required to obtain a license to set rates higher than the current cap, Taira said. Eligible borrowers would include small and mid-sized companies and individuals, he said.
The Nikkei newspaper reported the possible revision to the legislation on April 19.
The LDP pledged to ease the regulations in its successful election campaign in 2012, saying the rules led the consumer-loan market to shrink and drove some lending underground to illegal outlets.
The panel may submit a proposal to the Diet in the current parliament session, said Taira, adding that the matter needs "careful discussion." Previous efforts to relax the laws stalled because the LDP was in opposition, he said.
"I don't care who will make money with the revision," Taira said. "I just want to promote free economic activities."
Before it's here, it's on the Bloomberg Terminal.
LEARN MORE