pursuits
In Japan's Fight With China, Justin Bieber Loses and Southeast Asia Wins
By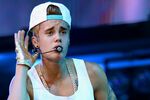 Justin Bieber pulled off a diplomatic coup this week. At a time when Japan and its neighbors are once again squabbling about disputed islands in the East China Sea and Japan's actions during World War II, the Canadian pop star traveled to Japan and managed to offend everyone involved.
Bieber stopped by the Yasukuni Shrine, which honors Japan's war dead, including war criminals who committed atrocities against the Chinese, Koreans, and others during World War II. That led to a social media uproar and a hasty mea culpa. "While in Japan I asked my driver to pull over for which I saw a beautiful shrine," Bieber wrote on Instagram. "I was mislead to think the Shrines were only a place of prayer. To anyone I have offended I am extremely sorry. I love you China and I love you Japan," he wrote.
It's unclear whether Bieber also loves Korea, another country where visits to the Yasukuni Shrine don't go over well. He has been criticized for omitting Koreans from his apology.
It's also unclear whether the Canadian singer's apology will prompt a backlash in Japan. Japanese businesses are increasingly fed up with China and looking elsewhere. Rather than put more money into China, where anti-Japan protesters in 2012 attacked Japanese-made cars and even went after Japanese restaurants, multinationals are increasing their investments in Southeast Asia.
Japanese money has provided a lifeline for ASEAN's economies. Concern about Fed tapering hit many emerging markets last year, but for the most part Southeast Asia managed to get through the jitters without a lot of pain. That's partly the result of inflows from Japan, wrote HSBC economist Frederic Neumann and economics associate Dinkar Pawan in a report published today. Japanese bank lending to the five largest ASEAN countries rose to a record last year, topping $180 billion. That's more than double the amount Japan's banks loaned to the Southeast Asian countries in 2009.
With no sign of easing in the dispute between China and Japan over islands in the East China Sea, Southeast Asia is likely to continue attracting more Japanese investment. The region will also benefit as Prime Minister Shinzo Abe and the Bank of Japan add more stimulus following the April 1 increase in Japan's consumption tax. "There's plenty of liquidity still on its way to keep the region afloat for a while," Neumann and Pawan write. "The BoJ is nowhere near done and might even add extra fuel later this year."
Before it's here, it's on the Bloomberg Terminal.
LEARN MORE