Five Thoughts on Airlines After Five Hours of Earnings Calls
By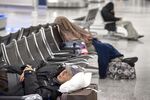 Most U.S. airlines reported financial results this week, a chance for executives to stress the harsh weather that fouled up their operations in January and February. These quarterly earnings have become reliably great, from Wall Street's point of view, but rather lousy for reporters: predictable results, minimal news. After five hours spent listening to airline executives over the past 48 hours, a few thoughts occur:
1. United has a credibility gap. Top executives at United have now depleted the good faith of many analysts, even those who recommend the stock. The airline continues to trail its domestic rivals in revenue, along with its dispiritingly high costs. And United's exposure to China, as the U.S. airline with largest presence there, is hammering its results because of a heavy expansion by Chinese airlines into North America.
The Chicago-based airline was the only major U.S. carrier to lose money in the first quarter. Executives promise as much as $300 million in cost cuts by yearend and say their internal data shows a promising turnaround. If finances don't improve by summer—the industry's healthiest quarter—it wouldn't be surprising to see United's board start considering a new leadership team that might right the airline.
2. Airlines are seeing consolidation's benefits. Lest anyone doubt the financial firepower of U.S. airline consolidation, consider this: The five largest carriers cancelled 97,600 flights in the first quarter due to winter storms, yet three of them managed to turn in record quarterly profits. All those cancellations came with costs, but never before could this industry have taken a weather-whacking and still proved able to tout profitability.
3. Southwest is gaining business traffic. Sure, the airline's corporate-travel traffic pales next to that of its its Big Three rivals, but Southwest has begun to sell more seats in its pricier Business Select fare category, which also lets travelers avoid the typical "cattle call" at the boarding gate. Passenger revenue per mile rose 3.5 percent from the same period last year with 23 fewer planes in Southwest's fleet. It also gained entry to Atlanta with its AirTran acquisition. With big expansions planned this year in New York, Dallas, and Washington's Reagan National, Southwest has a chance to tout its increased service in business markets.
4. JetBlue is being squeezed by creeping costs. JetBlue strives to be the customer-friendly middle player between increasingly expensive global network airlines and no-frills ultra-budget carriers—a hybrid airline model for travelers who don't like either of the industry's extremes. But this year, JetBlue agreed to a 20 percent pay increase for its 2,500 pilots through 2017, hoping to ward off the Air Line Pilots Association and remain competitive with larger rivals. Pilots voted this week to unionize, which could further add to JetBlue's cost pressure. And as JetBlue moves some of its fleet from cross-country flights to shorter routes from Washington National—where it bought slots opened up by the American-US Airways merger—operating costs will rise.
5. American shareholders may see a payday soon. The airline's cash balance rose to $10.6 billion in the first quarter, and the company's board met this week to mull what to do with all that money, which executives have conceded is too high. The newly merged American has spent $717 million since December to reduce its total share count by about 24 million. Chief Executive Officer Doug Parker says that the decision "hopefully gives you some indication of our views" on using the cash.
Before it's here, it's on the Bloomberg Terminal.
LEARN MORE