Analyzing Red Sox Owner John Henry's Big Offseason Bet
By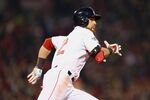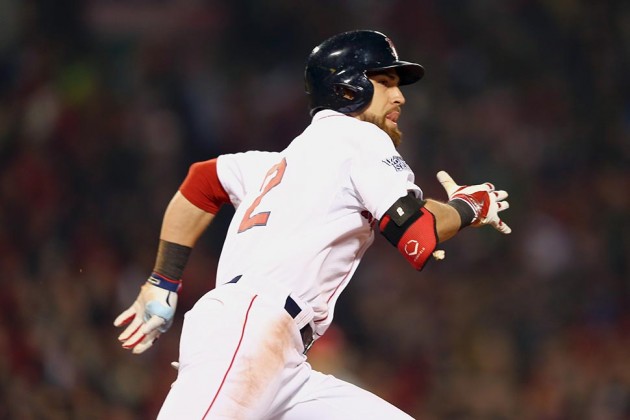 In the new issue of Bloomberg Businessweek—the "Success Issue"—I profile Boston Red Sox owner John Henry and his philosophy toward team building, which got an overhaul before last season's World Series-winning team took the field. A big part of Henry's approach to baseball is maintaining the discipline that helped him grow rich as a commodities trader. In a baseball context, the discipline Henry's looking to instill is the discipline not to overpay for players, even really good ones.
The most consequential roster move the Red Sox made this offseason was letting their All Star center fielder, Jacoby Ellsbury, leave and sign with the rival New York Yankees. Sox fans will miss Ellsbury's speed, on-base percentage, and defense. But viewed purely in investment terms, the Sox's decision to buy and then sell Ellsbury looks quite good.
The Red Sox chose Ellsbury as the 23rd overall pick in the 2005 draft. He reached the major leagues in 2007. Over the course of the seven seasons he spent with the Red Sox (2007-13), Ellsbury contributed a total of 21.7 "wins above replacement" (WAR)—a sabermetrics statistic that measures a player's contribution relative to a "replacement-level" player, such as a bench player or a minor league call-up, and derives from offense, base running, and defense performance.
The market price of one WAR is about $5 million. So it's possible to measure a player's salary against his production and make a determination about the wisdom of the investment. According to Baseball Reference, the Red Sox paid Ellsbury $20.8 million during his seven years in uniform. His 21.7 WAR were worth $108.5 million. So Henry and the Red Sox came out $87.7 million ahead. "If we had an unlimited amount of money, Jacoby would still be with us," says Henry. "He was a tremendous player."
Was letting him walk a good bet? Based on performance projections, it sure looks like it. Baseball aging curves used to suggest that players peak offensively at around age 30 (Ellsbury is 30). But the sharp drop-off in the performance of older players, probably due the reduced use of steroids, has shifted the offensive peak earlier. A recent study by FanGraphs concluded that players' performance now begins to decline after age 26.
Ellsbury will have to turn in a superhuman performance to justify his new contract. The Yankees are paying him $155 million over eight years, so he'll have to produce 31 WAR (or 3.8 per season) for the team to break even—meaning, he'll have to exceed his Boston performance (3.1 WAR per season) substantially even as age erodes his skills.
Long term, Henry is probably following the right trend here. But in the short term, fans may disagree. Ellsbury is raking for the Yankees, hitting .337 with a .391 on-base percentage. The leadoff hitters the Red Sox have replaced him with are hitting below .200, and the team is struggling to score runs.
Before it's here, it's on the Bloomberg Terminal.
LEARN MORE