A Skater-Shoe Boom in Asia Kicks Up Sales for Vans
By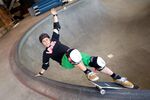 Chinese shoppers have suddenly discovered classic skateboarding sneakers.
Vans, the shoe brand long associated with the stoners of Southern California, posted a 40 percent increase in Asia sales last quarter, according to apparel conglomerate VF Corp., which bought the brand in 2004. Revenue from Vans sold in China more than doubled.
Part of the momentum is simple expansion as the famous checkerboard canvas shoes stride farther into the Far East. But VF has also brought some new strategic tricks to the table over the past decade. The company is churning out a steady stream of special releases, a ploy perfected over the years by Nike (see Christmas-themed basketball shoes). That tactic has produced the oxymoronic "new classics"—not to be confused with "original classics" made by Vans. In exchange for novel colors and materials, the new shoes sell at a higher price point. It plants a sense of scarcity in the minds of potential buyers with an eye on the robust secondary market for sneakers.
Last quarter, one of the brand's hottest offerings was a line of shoes based on the Beatles. The old-school Vans SK8 hi-top costs $60 a pair, but if you want Ringo Starr's face on them, you'll have to pay $75. While VF doesn't break out margins by brand, it seems likely Vans are more profitable than ever.
The company is also playing up its street cred. Last quarter, it opened a skate park in Korea and it will cut the ribbon this summer on a House of Vans in London, which will host concerts and art exhibitions. The goal is to make sure Vans stays "synonymous with youth culture," according to Karl Heinz Salzburger, the VF vice president in charge of international business.
Vans, now almost 50 years old, has posted double-digit sales for 18 straight quarters—there's certainly nothing old and tired about that.


Before it's here, it's on the Bloomberg Terminal.
LEARN MORE