Wal-Mart Brings Falling Prices to the Volatile World of Money Transfers
by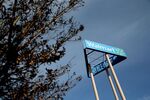 Wal-Mart Stores often relishes the role of price disruptor, and the retail behemoth has now turned its penny-pinching attention to the business of transferring cash. That has caused great distress for MoneyGram, a Walmart partner for transfers and now newly minted rival, as well as other incumbents.
When the Walmart-2-Walmart money-transfer service launches at 4,000 U.S. locations on Thursday, it will cost $2 less than the $11.50 MoneyGram charges to move $50 to $200 between any two stores. The retailer is working with Ria, a provider of money transfers. Amounts under $200 currently account for more than 75 percent of remittances sent between Walmart stores through MoneyGram.
An even bigger discount comes with higher-value transfers. To move $900, MoneyGram charges a $76 fee, according to figures cited by Walmart. The new Walmart price? Just $9.50.
News of the service earlier this month came as a blow to MoneyGram, the second-largest player in the transfer industry with a contract as the "preferred provider" at Walmart stores. MoneyGram took in 26 percent of its total revenue from Walmart sales during the last three months of 2013. The company's shares have dropped about 27 percent so far this month.
The business of moving money electronically has drawn regulatory scrutiny. Many users are among the nation's poorest, including immigrants who send funds abroad. For the more than one-quarter of Americans classified as unbanked or underbanked, money-transfer services offer one of the few secure means of getting cash to a friend or relative in need.
The transfer industry faces higher costs to comply with new regulations targeting fraud and has seen profit margins pressured by renewed competition. The largest transfer processor, Western Union, cut prices in November 2012 amid falling market share. Those "pricing investments," as the company termed them, helped drive a 5 percent increase in total transactions last year and a 20 percent jump in areas targeted for price cuts. But Western Union's move also helped to destabilize pricing in an industry that has historically enjoyed robust margins.
"They have an oligopoly, which is why they have such egregious pricing [on transfers of sums] over $200," says Michael Brown, chairman and chief executive of Euronet Worldwide, Ria's parent. "It's them or the highway."
MoneyGram CEO Pamela Patsley said her company won't match the lower prices—at least initially. "We will remain very measured, disciplined, and targeted in our response to competition. That's always been a tenet of our business," she said. Patsley expressed disappointment with how Walmart characterized MoneyGram's prices, saying the retailer "participates in 100 percent of our pricing decisions, including price increases."
Walmart, as the authorized agent behind the new service, collects a cut of the transfer on each end, according to Kevin McVeigh, an analyst at Macquarie Capital. Aside from the $2 consumer savings on $200-and-under transfers, McVeigh says the main difference in the new deal appears to be Walmart's bigger portion of the fees from Ria than it had received from MoneyGram. "I don't think the pricing was as dramatic as what was laid out," he says of Walmart's move.
For MoneyGram, meanwhile, McVeigh says the changed relationship with Walmart will come with an opportunity to expand into other big-box retailers such as Costco Wholesale or BJ's Wholesale Club.
Walmart sees its new "white label" transfer service as giving customers another brand choice, "akin to what you would see in the shopping aisle for laundry detergent," says Daniel Eckert, the company's senior vice president of services. The retailer has seen an increase in the money-transfer business due to military deployments and the shale energy boom, both of which created a diaspora of soldiers and workers sent far from their families. Walmart, Eckert says, is seeking "less confusion, less complexity, less expensive" with its new money-moving service.
Before it's here, it's on the Bloomberg Terminal.
LEARN MORE