United Remains the Problem Child of the U.S. Airline Industry
By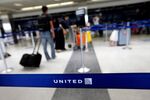 In a winter that socked air travel, many airlines nonetheless emerged with profits. And then there's United, where the red ink flowed in the first quarter of the year given the weather and sales that continue to lag the airline's three enormous domestic rivals.
United canceled 35,000 flights because of the winter weather, all but 5,000 of them at its regional airline partners—"the equivalent of not flying for 7 of the 90 days of the past quarter," says Jim Compton, United's chief revenue officer. The airline had the unwanted distinction of being the only carrier to lose money in the quarter—$489 million, with $200 million of that on the cost of winter storms that hammered its hubs in Denver, Chicago, Washington, D.C., and Newark, N.J. The loss was slightly better than analysts had expected but still grew more than $100 million from a year earlier—proof that the rocky merger of United and Continental still has many travelers choosing other airlines when they can. Revenue slipped slightly, to $8.7 billion. United shares fell 9 percent.
"I'll tell you that we're extremely disappointed," Chief Financial Officer John Rainey said on a conference call today. "We have the same feeling about this as the analyst community and investors."
United has embarked on an efficiency effort it calls Project Quality aimed at reducing costs by $250 million to $300 million this year, in part by integrating some of the dual systems the airline still operates as part of the ongoing merger. Executives laid out four ways the company will try to boost financial returns:
1. Revenue management. United is taking fewer earlier bookings to leave more seats available for sale closer to day of the flight, which generally are more expensive.
2. Hub schedules. The airline is better coordinating arrivals and departures at its Denver and Houston hubs to shorten connection times.
3. Premium seating. United says it's increased the use of dynamic pricing for seat upselling to its Economy Plus and first-class cabins so that prices and seat offers are tailored to each ticket buyer.
4. Aircraft size. Executives say they've begun swapping larger and smaller airplanes on routes to more efficiently match demand, with about 50 planes exchanged each day.
Analysts are growing skeptical of quarter after quarter where United's "many excuses," as Cowen Group's Helane Becker put it on a conference call with executives, fail to yield results. "At what quarter can we all agree that it's not working?" Morgan Stanley analyst John Godyn asked, citing a "disconnect" between wary investors and the rosy projections United leadership has been offering, without result. The persistent financial disappointments have some analysts wondering if United suffers some kind of structural affliction that does not plague American Airlines and Delta Air Lines. Hunter Keay, of Wolfe Research, mused whether United should close Los Angeles as a hub, as it announced with Cleveland in February. JPMorgan Chase's Jamie Baker wondered whether United lacks dominance at its hubs the way American enjoys at Dallas-Fort Worth and Charlotte, and Delta has in Atlanta and Detroit.
As he has in the past, Chief Executive Officer Jeff Smisek dismissed the notion that United has a hub disadvantage, calling the airline's core trouble mostly a lack of execution. "For us, it's a lot of basic blocking and tackling, getting our operational integrity humming," he said, adding that "we operate really inefficiently today" and that "our customer service historically since the merger has not been as good as it should be."
Before it's here, it's on the Bloomberg Terminal.
LEARN MORE