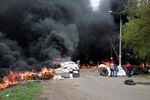 After weeks of hesitation and embarrassing gaffes, the Ukrainian government has opted for a more decisive action against Russian-backed insurgents in the east of the country. On Thursday morning, assault troops burned three separatist roadblocks outside Sloviansk, the center of anti-Kiev resistance in the coal-rich Donbass region. The Ukrainian interior ministry reported that an "anti-terrorist" operation was under way inside the town, warning people to stay inside their houses. But the offensive was halted after Russia started moving troops to the Ukrainian border. Witnesses on the ground say the Ukrainian army didn't enter the town.
Speaking to Russian TV channels, with an accent characteristic of central Russia and pronouncing the name of the town in a way locals never would, a balaclava-clad "deputy commander" for Sloviansk's "people's militia" said Ukrainian armored personnel carriers retreated from the separatists' destroyed checkpoints. He said the town was practically encircled by the Ukrainian army, although the exit to the east was still controlled by the separatists.
Judging by figures released by the interior ministry, the number of armed separatists who control government buildings in Sloviansk ranges from a few dozen to the low hundreds. They hold 10 detainees, mostly pro-Ukrainian activists. The separatists deny the people are hostages, preferring to call them prisoners of war.
Earlier on Thursday morning, the self-proclaimed separatist mayor of Sloviansk said his fighters would "turn the town into Stalingrad" if Ukrainian forces continued their advance. But the Ukrainian offensive was brought to a sudden halt after Russian President Vladimir Putin and his defense minister, Sergey Shoygu, issued strongly worded statements that evoked fears of a possible Russian invasion of Ukraine. Putin called the assault on Sloviansk "a punitive action" that "will have serious consequences for bilateral relations."
Shoygu claimed the Ukrainian authorities have sanctioned the use of the army against unarmed civilians: "If this military machine is not stopped, there will be more casualties." He announced the launch of a military exercise in regions bordering Ukraine. During the day, multiple reports emerged about Russian military columns being spotted in close proximity to the Ukrainian border.
Before it's here, it's on the Bloomberg Terminal.
LEARN MORE