To Help Students Impress Recruiters, One Business School Cuts Class
by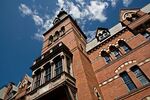 Some former MBAs will tell you that the most valuable part of business school is the admissions process. The classes are nice, the networking opportunities tops, but the hardest work is behind you by the time orientation starts. When a corporate recruiter eyes a business student's transcript, that student's grade in strategy class doesn't matter nearly as much as the university that issued the grade.
The steely eyed realists who subscribe to that view should applaud a recent change in the core curriculum at Cornell University's Johnson Graduate School of Management. Beginning in August, the school will reduce the number of credit hours first-year MBAs take during the second half of the first semester—a period that overlaps with peak recruiting season.
Those changes come at the end of a three-year evaluation process that polled students, alumni, and recruiters. According to an article this month in the Cornell Business Journal, a student-run publication, "many students and alumni complained about the course load during the heavy internship recruiting season, and many recruiters [commented] that Johnson students were underprepared for their interviews."
The publication also reports that Johnson will move back its Critical and Strategic Thinking class to the fall semester so first-year students are better equipped to answer interview questions. What's more, core classes won't meet during the first and last two weeks of each semester to give students more time to concentrate on recruiting and final projects.
Johnson is making nonrecruitment-related adjustments to its curriculum, too. The school will add a weeklong leadership exercise at the beginning of the first semester, among other efforts to beef up leadership training, and increase the emphasis on data modeling and analytics in its statistics instruction.
The changes will be rolled out for students in the class of 2016, says Doug Stayman, associate dean for MBA programs. There's no reason that bushy-tailed students who are accepted shouldn't start preparing for internship interviews now.
Before it's here, it's on the Bloomberg Terminal.
LEARN MORE