The Rarity of Derek Jeter's Longevity
By and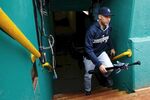 Derek Jeter is early into his 20th, and final, season playing for the New York Yankees, the team he began with in 1995. Jeter's longevity is remarkable in the world of pro sports, but his loyalty to a single franchise is even more unusual in the modern era. As far as active Major League Baseball players go, nobody's tenure comes close to Jeter's with a single team.
Out of 750 players on the 25-man rosters of the league's 30 teams, only 11 others have played even 10 years with just one franchise. That's just 1.3 percent of active players. Jimmy Rollins of the Phillies leads the rest of the list with 15 years:

It's also worth comparing Hall of Fame inductees to see if the elite players in baseball history stayed with their original teams, particularly in previous eras. Of the 216 MLB players in the hall, only 48 (or 22 percent) played exclusively for one franchise. (This excludes inductees who made the hall in other roles, such as manager, executive, or umpire. It also excludes Negro League inductees, because record-keeping was not fully reliable.)


Brooks Robinson and Carl Yaztremski lead the list: Each spent 23 years with a single team. They're followed by Mel Ott, Stan Musial, and Al Kaline at 22. Five more Hall of Famers played 21 years with one team, and four more played 20.
In fact, of the 37 major leaguers who played at least 18 years with a single franchise, only nine eligible players are not in the Hall of Fame. Consider Jeter, Mariano Rivera, Chipper Jones, and possibly Edgar Martinez as entering the hall in the near future. Forty other members of the hall played for just 2 teams.
Jeter has certainly reaped the rewards of a long career with a premier franchise, cashing $265 million of Steinbrenner family checks. That ranks second in baseball history, behind only Alex Rodriguez.
Before it's here, it's on the Bloomberg Terminal.
LEARN MORE