Taco Bell Is Going Upscale—Really
by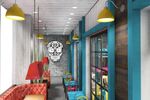 Some people would never eat at a Taco Bell. The fast-food chain's executives know this, and they won't bother trying to persuade them otherwise. But how about enjoying a meal at U.S. Taco? Sounds better, right? U.S. Taco is the chain's new alter ego, an American-inspired restaurant (as opposed to Mexican-inspired, which is how company reps describe Taco Bell's offerings.)
The first U.S. Taco opens this summer in Huntington Beach, Calif., not far from Taco Bell headquarters. "I would love one day to see 1,000 of these," Greg Creed, Taco Bell's chief executive, told the Orange County Register. "But let's not get that far ahead of ourselves. We're opening a restaurant and seeing what happens."

U.S. Taco won't be selling burritos. Or Doritos Locos tacos. There won't be any Crunchwrap Supremes or Taco Waffles. No drive-throughs, either. The restaurant will make 10 kinds of premium tacos (priced at $4 each), spicy thick-cut fries, and shakes (some infused with alcohol à la John Steinbeck). One taco, the Winner Winner, features Southern-style fried chicken breast with SOB, or South of the Border gravy. The One Percenter has fresh lobster in garlic butter with red cabbage slaw and pico de gallo on crispy fry bread.
Yum Brands, which owns Taco Bell, as well as KFC and Pizza Hut, is testing other premium restaurants. Earlier this month it opened Super Chix in Arlington, Tex., and it's also working on Banh Shop, which will sell Asian subs. The company has aggressive plans for Taco Bell itself, hoping to double sales from $7 billion last year to $14 billion by 2022.
Before it's here, it's on the Bloomberg Terminal.
LEARN MORE