Steyer Nets $10,050 for $100 Million Climate Super-PAC
Julie Bykowicz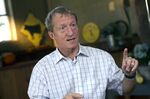 Billionaire Tom Steyer is trying to enlist other wealthy donors in a $100 million climate-themed political organization, pledging at least half from himself.
So far, he's landed one $10,000 check.
Mitchell Berger, a Fort Lauderdale, Florida, lawyer and top Democratic fundraiser, was the lone named donor to NextGen Climate Action Committee in the first three months of the year, a U.S. Federal Election Commission filing shows.
The report notes another $50 in contributions so small that they didn't need to be itemized.
"Well, if I'm the only donor, I guess it won't be the last time I'm a donor," said Berger, chuckling, in a telephone interview. "Although I certainly hope that I'm joined by others at some point."
Chris Lehane, a Democratic strategist advising Steyer on his political endeavors, said he's "completely comfortable" the super-PAC will have plenty of money at its disposal for November's congressional elections.
NextGen will soon identify specific states "where we intend to both invest our own resources and raise resources on behalf of candidates," super-PAC spokeswoman Suzanne Henkels said in an e-mail.
Would-be donors are waiting for that game plan, Lehane said.
Berger has spent much of his adult life raising political money and has worked for decades with former Vice President Al Gore, another advocate for addressing climate change. His assessment of Steyer's goal of securing $50 million from others: "It's not going to be easy."
Galileo Similarity
The donor compares the climate issue to the Catholic Church's condemnation of Galileo in the early 1600s after the astronomer disputed its pronouncement that the Sun orbits the Earth.
"Things that will appear to be obvious to us in 100 years are not as obvious now," Berger said. He said he admires Steyer's goal "to create an undercurrent on climate where it's possible for politicians to say the Earth travels around the Sun without being excommunicated."
Lehane identified two additional fundraising challenges. Many environment-minded Democrats see money they put up as "a drop in the Big Oil bucket." Additionally, he said, Democrats are philosophically opposed to the 2010 court cases and regulatory rulings that unleashed unlimited spending by outside groups like NextGen.
Wife's Connection
Steyer, a retired investor who lives in California, didn't solicit the donation, Berger said. Rather, Berger volunteered the $10,000 while Steyer was visiting in Florida. Steyer and Berger's wife, Sharon Kegerreis Berger, are high school and college classmates.
"It is brave and refreshing that Tom Steyer is so committed to this issue," Berger said.
NextGen first registered as a super-political action committee -- a group that may raise and spend unlimited amounts of money on elections so long as it doesn't coordinate with candidates -- in July 2013.
Since then, Steyer has put $9.3 million into it, FEC records show. The 56-year-old, whose net worth is $2.6 billion, according to the Bloomberg Billionaires Index, made his fortune as a money manager. He founded and was former chief executive officer of Farallon Capital Management in San Francisco.
In all, he has spent more than $50 million on political campaigns and causes over the past three years. Steyer's personal interest proves the super-PAC won't fail, his aides said.
He "believes 2014 is a pivotal year when it comes to climate politics and is prepared to provide significant support in races where climate is on the ballot," Henkels said in the e-mail.
Ranch Meeting
Steyer's super-PAC fundraising began in early February, when he gathered about 20 prospective donors and fund-raisers at his California ranch to make his $100 million NextGen pitch, two people familiar with the meeting confirmed to Bloomberg News.
He told them the money would be used to support candidates who want to address climate change in ways that Steyer supports, including opposing the Keystone XL pipeline that would transport crude oil from Canada through the U.S. The Obama administration has delayed a decision of whether to approve the project, pending a lengthy review process.
NextGen hadn't directly participated in any 2014 federal races as of the end of March, its recent FEC report shows. The super-PAC spent about $500,000 on strategic consulting, legal services, travel and other overhead in the first three months of the year.
New Hampshire
At the February session, which Berger said he and his wife didn't attend, Steyer discussed supporting New Hampshire Democratic Senator Jeanne Shaheen, who may face former Republican Massachusetts Senator Scott Brown in November's election. Brown, who has moved to New Hampshire, previously has expressed skepticism about climate change being a result of human activity.
Steyer also proposed an active role in the Florida governor's race in which Charlie Crist, who previously held the office as a Republican, is seeking the Democratic nomination to oppose his successor, Republican Rick Scott.
That would please NextGen's solo large donor.
"My state is deeply impacted by climate issues," Berger said. "Ask all of our local mayors who deal with the fallout every day. And yet many people unfortunately, for whatever reason, wish to not confront the issue. Our current governor is one of those people."
Before it's here, it's on the Bloomberg Terminal.
LEARN MORE