Princeton to Pay Town More Than $24 Million Over Seven Years
Lisa Wolfson and David Voreacos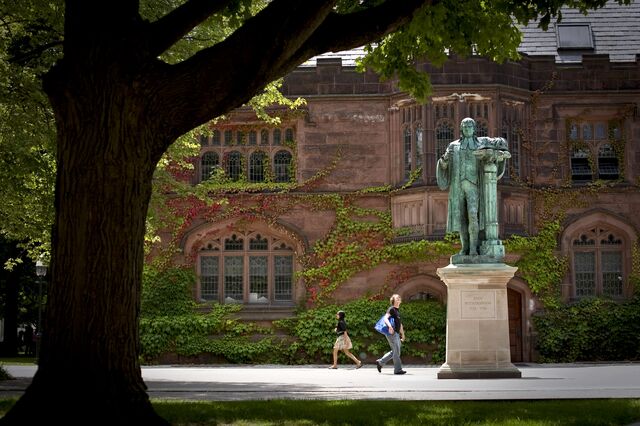 Princeton University, the fifth-richest college in the U.S., agreed to increase its voluntary and one-time contributions to the town of Princeton, New Jersey, to more than $24 million during the next seven years.
Princeton will make voluntary unrestricted payments of $21.7 million over the period and additional contributions valued at $2.59 million for a variety of town projects, the Ivy League college said yesterday in a statement.
Since nonprofit colleges and universities are exempt from most taxes, many municipalities that they are located in have sought to boost voluntary payments as the institutions grow and their demands for public services increase. Under the agreement, Princeton's voluntary unrestricted contributions will rise more than 10 percent this year to $2.75 million, and will grow by 4 percent annually in the six subsequent years.
Princeton, with an endowment valued at $18.2 billion as of June, is fighting a lawsuit by a group of residents who say the school should lose its exemption from property taxes because it shares royalties with faculty. The school reaped $524 million in license income between 2005 and 2012, mostly from a patent that Eli Lilly & Co. turned into the cancer drug Alimta.
The residents who are suing want Princeton to pay more, claiming it shares the profits with some faculty while not paying enough in local taxes. University lawyers have argued in the litigation that the payments are a sharing of royalties, not profits, and compensate faculty members for assigning property rights to the school.
'Really Shocked'
"I'm really shocked," said Bruce Afran, an attorney representing the residents, who said the municipality didn't consult with them before reaching the agreement. "It's not even a $1-million-a-year increase. This represents a tiny fraction of the hundreds of millions of dollars a year in pharmaceutical revenue they get. Rather than ally with us, they've chosen to do this alone and the result is they're getting virtually no increase."
Martin Mbugua, a spokesman for the college, declined to comment beyond the university's statement. He said in January that the lawsuit won't affect Princeton's federal tax-exempt status.
The university is contributing its fair share for services in Princeton, said Kathryn Monzo, the town's deputy administrator and director of finance.
"Both sides compromised and came out with a very good deal," Monzo said today in a telephone interview.
Property Taxes
The municipality, with about 28,500 residents since the January 2013 consolidation of the Borough of Princeton and Princeton Township, is located halfway between New York and Philadelphia. The university, chartered in 1746 as the College of New Jersey, has about 7,900 students, according to its website. Eric Schmidt, chairman of Google Inc., and First Lady Michelle Obama are among its alumni.
While much of the school's property is exempt, it paid $8.35 million in property taxes last year, according to yesterday's statement. Of that amount, $1.85 million went to the town.
The university isn't alone in facing pressure to pay its host city more. Brown University, the Ivy League school in Providence, Rhode Island, agreed in 2012 to boost payments to the city by $31.5 million over 11 years.
Before it's here, it's on the Bloomberg Terminal.
LEARN MORE