Chess Champ Magnus Carlsen Is Mr. Confident
Chess grandmaster Magnus Carlsen on plotting, planning, and the weakness of pessimism
by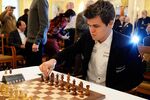 Magnus Carlsen is the best chess player in the world. He's 23 years old. He won the title—World Chess Champion—in November 2013 in a 10-game, two-week-long tournament against 44-year-old Viswanathan Anand, who'd been the champ since 2007. "People just crack under pressure," Carlsen said at a press conference afterward. "You just have to keep on pushing." He doesn't trust fear or anxiety to motivate him. He trusts confidence. "If you don't believe in your capability, no one else will," he said in an e-mail from a training camp in Oman, where he was preparing for a spring tournament in Azerbaijan. "Confidence is important to success in general, not just my own."
Carlsen, who grew up outside of Oslo, learned the game from his father and participated in his first tournament when he was 8. Five years later, he became a grandmaster. He competed against Gary Kasparov, then the top-rated player in the world, in rapid chess that same year. The first game was a draw. Afterward, Carlsen and his family celebrated with ice cream at McDonald's. By the time he was 17, he recognized that he could one day be the world's preeminent player. "You need to be absolutely confident," he told Charlie Rose last April. "You have to be, so you don't miss opportunities. If you're pessimistic, you see dangers that aren't there."

Carlsen described his playing style as strangling his opponents: He wears them down with threats as he robs them of options. He was smiling when he said this to Rose. Carlsen's training includes trying out new moves and studying those of others. He says he's memorized some 10,000 games. "Good players use more long-term memory than short-term memory," he told the authors of a book about Norwegian athletes. "It is intuition that is largely based on past experiences." The rest of his regimen is fairly straightforward. Carlsen tries to work out every day. He plays soccer with friends when he's home. He reads Donald Duck comic books on plane trips. "Relaxing is a crucial part of my life," he said.
Chess demands an ability to plan ahead, and luckily for those who don't possess Carlsen's natural talent, it's something he thinks can be learned. "I believe the world could use some more 'thinkers' who are conscious and critical about the consequences of their actions," he said. To that end, he has started his own company, PlayMagnus, whose first product is an app that allows users to play against an avatar of himself at different ages, beginning at 5 years old.
Carlsen once joked that the Wall Street financiers he sometimes plays with at promotional events should hire him. (One of his sponsors is Arctic Securities, a Norwegian financial services firm.) They'd probably love to. For now, though, he's not thinking beyond the game. "I don't consciously use my chess skills in everyday life," he said.
Before it's here, it's on the Bloomberg Terminal.
LEARN MORE