Low Ratings for the Masters Mean a Smaller Boost for Bubba Watson
By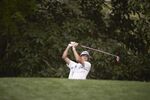 Bubba Watson doesn't seem like the kind of guy who spends a lot of time checking on his marketing appeal. "Who I am as a person, though, makes me turn down a lot of things," he once told Forbes of his approach to sponsorship opportunities. After he won the Masters golf tournament this year, he celebrated with a dinner at Waffle House. So he probably won't be disappointed to hear that his fame didn't grow as much after this year's Masters as it did the first time he won two years ago.
According to surveys by sports marketing research company Repucom, Watson's "awareness rate" more than doubled from 16.4 percent to 38.6 percent in the month following his first win at Augusta. As of last September, he was sitting at 38.2 percent. In a survey from April 17 of this year, just after his Masters win, he was up to 44 percent.
There are two easy explanations for this. The first is diminishing marginal returns. Most folks who will ever learn about Bubba Watson probably did so after he won the most prestigious event in his sport two years ago. For a golfer, he's not doing badly. His current awareness rating puts him above Sergio Garcia and Rory McIlroy for fame in golf.
The second explanation is that this year's Masters, as expected, drew a small audience without Tiger Woods in the field. It didn't help that golf's next biggest star, Phil Mickelson, failed to make the cut for the final two rounds on Saturday and Sunday. Their combined absence made for the weakest ratings in more than two decades, with an average audience of 5.9 million on Saturday and less than 11 million on Sunday. (Last year drew 8.5 million on Saturday and 14.7 million on Sunday.) Watson was a star on a diminished stage.
The tournament's host, Augusta National Golf Club, will also shrug at this. As its annual handshake deal with CBS for TV rights demonstrates, the club is more interested in maintaining tradition than maximizing revenue. And Watson, while less famous than Woods, is also less polarizing. He and Augusta are just fine with Tiger sitting this one out.
Before it's here, it's on the Bloomberg Terminal.
LEARN MORE