In Japan, Obama Has a Message for China: Back Off
by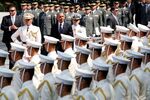 President Obama today made clear which side he's on in the territorial dispute between China and Japan. The world's second and third-largest economies have been squabbling over a bunch of uninhabited islands in the East China Sea, and while Obama wants both sides to cool things down, he made sure to remind the Chinese that the U.S. and Japan are treaty allies. "What is a consistent part of the alliance is that the treaty covers all territory that is administered by Japan," he said at a press conference in Tokyo today. "This is not a new position. It is a consistent one."
The statement was a neat way for the president to stand with an ally without taking a position on the tricky question of sovereignty. Yes, there's disagreement about which country has sovereignty over the islands, but there's no doubt about which country actually administers the islands today: Japan. "It seems to me the U.S. government is trying to send a firm message to China against any attempt to change the status quo by force," says Tsuneo Watanabe, director of policy research and senior fellow at the Tokyo Foundation.
Further gladdening his Japanese hosts, Obama chided China for its actions around the islands, called the Diaoyu by China and Senkaku by Japan. The U.S. has told the Chinese "that all of us have responsibilities to maintain rules of the road and international order."
Sure enough, the Chinese are not pleased by Obama's decision to weigh in so forcefully on the island dispute. "We firmly oppose putting the Diaoyu Islands within the scope of the U.S.-Japan Treaty of Mutual Cooperation and Security," said Foreign Minister spokesman Qin Gang today.
The Chinese are angry, which means the Japanese are happy. The question now is, what if anything will the president get from Shinzo Abe in exchange for berating China. Maybe Abe could ease up on his demands in the stalled Trans-Pacific Partnership free-trade talks? In the Tokyo press conference, Obama said the two sides had made "important progress" in their TPP talks.
A breakthrough in the TPP would be a nice win for Obama and his administration's "pivot" to Asia. But with the crisis in eastern Ukraine heating up, in the short term he might be more interested in getting Japan to sign on to any new and tougher sanctions against Russia. Japan is a major customer of Russian natural gas, and with Putin courting customers in Asia to reduce Russian reliance on Europe, that gives Japan some leverage, says Watanabe. "I'm sure the U.S. wants Japan to apply pressure to Russia," he says.
At the same time, Obama wants to send a reminder to the Chinese not to get the wrong idea from Putin's land grab: Japan is not Ukraine. and the islands in the East China Sea are not Crimea.
Before it's here, it's on the Bloomberg Terminal.
LEARN MORE