Iterate→ Iterate→ Caffeinate
The AeroPress may be the world's greatest single-cup coffee maker. Here's how the owner of a toy company invented it in his garage
by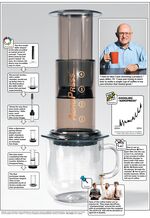 Like many men, Alan Adler deplored his poor-quality home coffee maker. Unlike many men, he fired up the industrial lathe he keeps in his garage and did something about it.
This was in 2004. Adler—a mechanical engineer and the founder of a Palo Alto (Calif.) toy company called Aerobie, which makes the famous flying disc—knew that the longer coffee brews, the more bitter and acidic it tastes. He wondered if air pressure could rapidly force hot water through the grounds. The result, after 30-odd prototypes, was the AeroPress.
It's not a French press; it's more like an espresso machine that uses air instead of steam. The AeroPress brews a superstrong cup, is made of plastic, and retails for only $26. And it's Aerobie's fastest-growing product, accounting for half the company's sales and climbing.
Before it's here, it's on the Bloomberg Terminal.
LEARN MORE