Finra's Arbitrators: Dubious, Asleep—Sometimes Dead
Change comes slowly to the system for settling customer complaints
By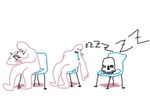 When a couple in Wichita claimed they lost $187,500 in what they called a Ponzi scheme orchestrated by a Morgan Stanley broker, the industry-funded Financial Industry Regulatory Authority (Finra) provided a list of potential arbitrators to resolve the dispute. Two of the people were dead, one for more than two years, according to Diane Nygaard, the couple's lawyer. She calls the faulty list a sign of a broken system that has failed to protect investors. "If it were a regular judicial system, you would not have a case appointed to people who are dead," she says. "Wall Street should not have a special pet court that they operate."
Millions of Americans who have brokerage accounts must take any disputes about their investments to arbitration rather than court, a requirement that was upheld in a 1987 Supreme Court ruling. After a string of lapses that cast doubt on the system's fairness and quality, Finra is seeking to reform the system that lets Wall Street keep its dirty laundry out of court.
In February the regulator proposed rules that could reduce the number of former stockbrokers hearing customers' cases. The proposed rules would also prohibit settlements that require the dispute to be kept out of public records. That same month, a fired Finra employee claimed in a federal lawsuit that her employers asked her to remove arbitrators who'd ruled against Merrill Lynch. In March, Finra said it had dismissed an arbitrator who'd handled more than 30 cases after learning that he'd lied about his legal credentials. "We review the arbitration program continuously to identify ways to ensure the integrity of the arbitration process," spokeswoman Michelle Ong said in an e-mail.
In the Wichita case, filed in March 2013, Todd and Kristina Cantrell claimed that Morgan Stanley and other firms for which their broker worked failed to adequately supervise him or alert them to red flags. The broker, Eric Burns, had the Cantrells write him checks in June 2011 for bogus investments, according to the complaint. Morgan Stanley fired Burns four months later, according to Securities and Exchange Commission records. He pleaded guilty in 2013 to five counts of wire fraud involving the Cantrells and others and was sentenced to 63 months in prison. "The events the Cantrells are complaining about did not happen through a Morgan Stanley account," says Christy Jockle, a spokeswoman for the brokerage.
Finra in August sent the list of arbitrators to Nygaard and Morgan Stanley, inviting them to rank their choices in a system that also allows each side to strike several names. "Our arbitrators are carefully selected from a broad cross-section of people, diverse in culture, profession, and background," Finra wrote to Nygaard. She discovered just how diverse from online obituaries. Gary Swimley had died in June 2011, while Harriet Caplan had passed away 18 days before the list was sent.
Finra didn't know the two were dead, "despite many efforts to ensure that our arbitrators' records are current," including background checks, Internet searches, and frequent communication, Ong said. Finra struck the dead arbitrators from its roster and sent the parties a revised list. In August it also began "reverifying the backgrounds" of every person on its roster, she said.
Finra's arbitration panels draw from a pool of 6,375 people, often retired brokers, lawyers, or accountants. They're paid about $400 a day when serving on a panel. Finra trains them, offering 14 hours of instruction that can be completed online. The average arbitration takes more than 15 months to resolve, and customers received damages in 42 percent of decisions last year, according to Finra. The regulator typically makes public a brief decision with a bare outline of the claim and no explanation of how the amount of the award was determined.
Lawyers complain about "frequent flyers"—arbitrators who are reluctant to make big rulings against the industry because they won't be asked back. "You have a professional class of arbitrators who know where their bread is buttered," says Leonard Steiner, a lawyer who has represented claimants in arbitrations.
According to an employment-discrimination lawsuit filed in federal court in Florida, Finra tried to fire three arbitrators who had awarded $520,000 in 2011 to the estate of a Merrill Lynch customer. In the suit, Jill Wile, a former deputy regional director, says that after she advised against firing the arbitrators, senior managers "strongly encouraged" her to recommend they be removed. Finra disputes Wile's allegations. The dismissed arbitrators complained to the SEC and were reinstated.
Arbitrators frequently nod off, says Seattle lawyer David Gaba, who has represented investors and brokerage companies in arbitration. During a Louisville case a few years ago, one of the three arbitrators was asleep, and another busied herself with her cell phone, Gaba recalls. He and the opposing lawyer, Sam Edwards, went to a Dairy Queen, commiserated about the arbitrators' behavior, and agreed over a Blizzard to settle the dispute instead. "Both of us weren't clear if they had any idea what was going on in the case," Edwards says.
When the U.S. Government Accountability Office last looked in depth at the background of securities arbitrators in 1994, it found 89 percent were white men over the age of 60. That's "maybe down to 87" percent lately, says arbitrator John Duval, a former Merrill Lynch manager who has been an arbitrator for more than a decade. "We need more women arbitrators, we need more diversity of ages, and we definitely need more cultural backgrounds." Said Ong: "We remove arbitrators who cannot stay focused and alert during hearings based on complaints and our own staff reviews." She added that Finra "constantly strives to diversify" the roster.
In the 2010 Dodd-Frank Act, Congress gave the SEC authority to stop companies from forcing brokerage clients to waive the right to sue when they open accounts. It hasn't used that power, to the chagrin of 15 U.S. senators who complained in a letter to SEC Chairman Mary Jo White last year. SEC Commissioner Luis Aguilar, one of three Democrats on the five-member panel, has also called for ending the mandatory system, saying it "diminishes investor protection." White told the senators her staff is still considering the "important issue.'' A bill to prohibit mandatory arbitration proposed in August by U.S. Representative Keith Ellison, a Minnesota Democrat, has 29 co-sponsors. The govtrack.us private website gives it a 1 percent chance of being enacted.
BOTTOM LINE -
The bottom line: Dead people showing up on a Finra list of arbitrators is one symptom of a broken system, lawyers say.
Before it's here, it's on the Bloomberg Terminal.
LEARN MORE