Eating Alone by Design: An Entire Restaurant With Tables for One
by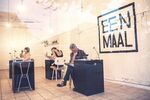 A scene from the 1984 movie The Lonely Guy perfectly dramatizes the fears many of us have about dining alone. The titular guy, played by Steve Martin, walks into an upscale restaurant and requests a table for one—"I'm alone," he tells the maître d'—as the room grinds to a halt while a theatrical spotlight follows the sad sack to his seat. A new pop-up restaurant in Amsterdam, which bills itself as the world's first for solo eaters, aims to remove the social stigma of forking dinner without a companion. In fact, there isn't a two-top in the joint.
The timing couldn't be better. Interest in food culture is peaking, and the act of eating, perhaps with a smartphone on the tablecloth, has become divorced from the pleasures of socializing. Those with a misanthropic bent might even argue that dining with others takes away from the culinary experience, diverting one's focus from the garlicky aroma of a winter black truffle or the buttery texture of top-grade raw tuna to the tedious obligation of sustaining conversation.
"The taste of persons eating alone seems different, and even more intense, according to our guests," says Marina van Goor, owner of the temporary eatery, which is called Eenmaal. As such, the chef takes care to serve four-course meals (at a moderate €35, or roughly $48, including drink) prepared from quality local and organic ingredients. Even the interior is left intentionally raw and no-frills, to emphasize the simple pleasure of unapologetically eating alone.
Don't expect to fill the void with social media—Eenmaal doesn't offer Wi-Fi. "I wanted to show that a moment of disconnection, by eating out alone, sitting alone, can be attractive, especially in our hyperconnected society," van Goor says. Instead, diners are encouraged to read physical magazines and books.
Van Goor, a designer at the Amsterdam creative agency MVG, hopes media attention drawn to her antisocial restaurant will help birth a bigger brand. She has already launched a line of champagne, with chocolate and tea to follow. The products, however, won't be packaged as single servings.
The restaurant will continue to act as a sort of ambassador for the concept, and van Goor aims to set up shop in London, Berlin, and the U.S. later this year. "We wanted to entice people to come to the restaurant and at the same time to give them food for thought," she says. "We wanted to demonstrate that eating in solitude can be a good thing." Book your reservation for one by e-mail.
Before it's here, it's on the Bloomberg Terminal.
LEARN MORE