China Pledges Major Stimulus Projects, Invites Private and Foreign Investors
By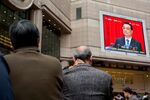 China's State Council, presided over by Premier Li Keqiang, has announced plans to pump out major stimulus projects this year, following an executive meeting yesterday. The announcement comes with new signs of weakness in the economy; an HSBC gauge released the same day showed a continuing contraction in manufacturing.
Eighty new projects will be launched in a host of sectors including railway, ports, clean energy such as hydropower, wind, and photovoltaic power, and modernization projects in the oil and gas and chemical industries, reported the China Daily on April 24. It's the second time this month the government has announced plans to increase investment in infrastructure.
And in a sign that China's leaders want to start delivering on reform promises made at last year's Third Plenum, yesterday's announcement said that private and foreign investment are to be encouraged in the ventures (although it didn't provide details about the projects.)
Those fields that are "monopolistic in nature" or "used to be dominated by government investment and State-owned enterprises" will now be opened to nongovernment funding, the newspaper reported, noting that the private sector accounted for 63 percent of last year's total capital investment.
Still, some are skeptical. "The government has promised private investment into these industries for a long time, but it is too difficult to carry out in areas that can touch the interests of the monopolistic sectors," Wang Yuanzhi, former chief of the small and midsize enterprises department of the National Development and Reform Commission, told the English-language daily.
Before it's here, it's on the Bloomberg Terminal.
LEARN MORE