Boston Mayor Looks to Skyscraper Housing to Forge Tech Capital
Tom Moroney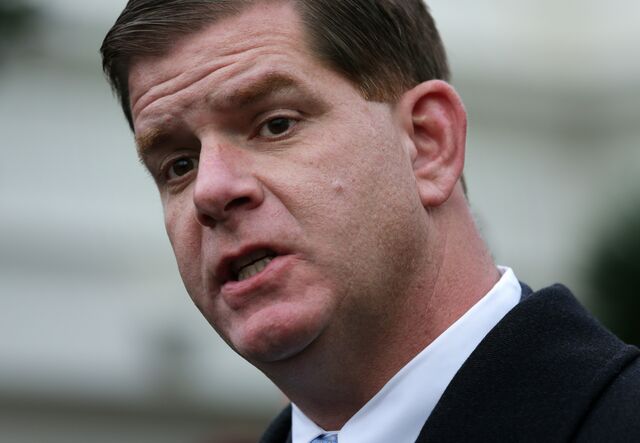 Boston Mayor Martin Walsh said he wants to make his city the tech capital of the world, eschewing tax incentives or other traditional sweeteners in favor of creating affordable housing for middle-class workers.
As condominium prices rise in Boston, especially in the luxury market, employees are finding it more difficult to stay, Walsh said in an interview at Bloomberg's Boston office. Groups of three and four workers will live together to divvy up the rent, but eventually they want their own place, and the city must be more creative in accommodating them, Walsh said.
"I'm not afraid to build a skyscraper for workforce housing," he said. "The middle class is being pushed out, and it's happening everywhere."
The average sale price of a condominium in Boston rose to just under $950,000 in April, according to Link Inc., a company that tracks Boston neighborhood sales.
Affordable housing emerged recently as an issue in two other U.S. urban centers. New York City Mayor Bill de Blasio vowed last month to build or preserve 200,000 affordable apartments in the next 10 years to offset the trend. In San Francisco, protesters carrying signs with slogans like "Tech = Death" are rallying against Silicon Valley employees who are buying apartment buildings and driving out tenants.
'Tight Margin'
Walsh said it can be challenging to create the kind of housing he envisions. Two important conditions must be met, he said: Banks have to be comfortable lending the money and developers would need stability in their relationship with the city.
"It's a very tight margin for developers because the return on investment is not as great" as from high-end waterfront projects, he said.
Walsh, who in January succeeded Boston's longest-serving chief executive, Thomas Menino, said he also wants to make city property available for tech startups to use as incubator space in neighborhoods, as well as in the downtown area. While not ruling out tax incentives, the mayor said he was on the lookout for different ways of nurturing the business climate.
"This city has only known two mayors in the last 30 years," Walsh said, naming Menino and his predecessor, Raymond Flynn. "We have a lot of new energy in City Hall and we want to deliver things differently."
Ribbon Cutting
In the last two months Walsh has cut ribbons on startups that employ 4,800 people, he said.
At the same time, Walsh said it's important to work with existing companies, like Fidelity Investments, which has sold some of its buildings downtown and moved a number of workers out of state over the years.
"We can't forget about stalwarts that have really helped our city, whether it's been the financial industry or the legal industry or the hospital industry," he said.
Walsh, 47, is a Democrat who was born and raised in Boston's Dorchester section. He survived childhood cancer and talked openly during his mayoral campaign about an earlier dependence on alcohol.
Before running for mayor last year, Walsh was a state representative, elected first in 1997. He has also been a labor leader, serving for two years as head of the Building and Construction Trades Council of the Metropolitan District in Boston, according to the city of Boston website.
One thing Walsh does share with Menino is the premium he puts on keeping the city's neighborhoods intact. He said he met recently with Drew Faust, president of Harvard University, which Walsh said owns about 50 percent of the land in Boston's Allston neighborhood. Some residents have been unhappy about the school's encroachment in a situation Walsh described as "very contentious."
Boston has to find ways to use Harvard "to keep a neighborhood in existence," Walsh said.
Harvard spokesman Jeff Neal confirmed Faust had met with Walsh and had no further details except to say the two would meet again.
Before it's here, it's on the Bloomberg Terminal.
LEARN MORE