Beyond GM's Recall Pain, a Boost From Bland Buicks
by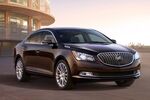 This General Motors tuneup is proving expensive. The company wrote down $1.3 billion in the first quarter to cover the cost of its ongoing recall crisis, and that financial damage was exacerbated by a $427 million writedown related to Venezuela's plummeting currency.
Much of GM's earnings report on Thursday was an effort to encourage investors to look beyond the recall kerfuffle in Congress and focus on the company's core business. "It's an understatement to say that the first quarter was challenging for General Motors," embattled Chief Executive Officer Mary Barra said on a conference call this morning. "Nevertheless, the company remains profitable, and I'm very proud of the way that the team has kept its focus on the customer."
GM's $213 million in profit, a plunge of 82 percent from a year earlier, was better than Wall Street expected, and the automaker's sales ratcheted up 1.4 percent to $37.4 billion in the quarter. "It almost didn't matter what the number was, as long as it was above zero," Christian Mayes, an analyst with Edward Jones, told Bloomberg News. The company made several tweaks to beat expectations, pushing up prices and keeping incentives low.
Largely lost in the earnings shuffle was the fact that Buick, one of GM's quietest sales engines, has been humming along nicely. From a marketing perspective, the line is kind of bland. It doesn't garner a lot of headlines, good or bad, and it certainly doesn't have the street cred of BMW or the sexiness of Audi. Even GM doesn't talk about Buick much, preferring to focus on the boastful striving of its Cadillac.
But Buick has a number of really nice—and nice-looking—cars that appeal to buyers who want something plush but don't want to pay a premium for the logo bolted on the grille. (Ford Motor's Lincoln is probably the most similar offering, although that brand is under a microscope in its protracted turnaround bid.) Buick sold 205,509 vehicles last year, a 13 percent increase from 2012 and its best tally in the U.S. since 2006. Domestic sales climbed another 11 percent in the first quarter of this year.

Car executives talk a lot about product mix—having the right assortment of vehicles at any given time. Stamping out a bunch of giant SUVs in 2008, for example, wasn't a great strategy. Yet Buick's new Encore merged into the field in early 2013 just as the luxury crossover market was coming up to cruising speed, and the relatively opulent mini-SUV with a starting price of about $24,000 accounted for roughly 1 in 6 Buick sales last year.
Globally, Buick's performance is even more impressive: It moved almost 300,000 machines worldwide during the first quarter, a 14 percent increase from a year earlier. Much of that growth came from China, were Buick was one of the first blue-chip U.S. brands in the market.
In its 110 years, GM is now crowing, Buick has never performed better. Sometimes a really quiet vehicle—one without much buzz at all, and also no headaches—can be a beautiful thing.
Before it's here, it's on the Bloomberg Terminal.
LEARN MORE