Mara Brock Akil and the Audience TV Forgot
Mara Brock Akil conquered TV by finding an audience everyone else had overlooked
By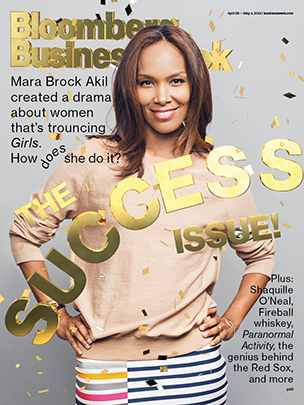 Mara Brock Akil is not a complainer. "If I was an evangelist," says the 43-year-old television producer, "I'd tell people: Stop bitching, start doing." She'd been up until three o'clock in the morning working on scripts for the second season of her hit hour-long drama, Being Mary Jane. The show, starring Gabrielle Union as a television host with a messy love life, is BET's first original scripted drama series. Being Mary Jane premièred to 4 million viewers last summer; that audience swelled to 5.8 million live-and-same-day viewers for the Feb. 25 finale—more than the numbers for the finales of HBO's True Detective and Girls combined.
"I just don't buy this," Brock Akil says to Being Mary Jane's six writers as she walks into the modernist Venice Beach (Calif.) writing loft she shares with her husband and partner, director Salim Akil. "I need another story outline first thing Monday." All morning long, she's been interrupted by calls about her other hit BET show, The Game, a half-hour sitcom set in the world of professional football. In its seventh season, The Game, co-created and produced with Kenny Smith Jr. and Kelsey Grammer, averages 3 million viewers a night, about the same as Tuesday-night broadcast successes such as New Girl and Brooklyn Nine-Nine.
Brock Akil's shows trounce most of their competition in the ratings, becoming top Twitter trending topics every night they air, and she's won prizes from just about every African American awards organization out there. But, as a black showrunner on a predominately black network, she hasn't been accorded the same attention or respect as her industry peers. "I have noticed that," Brock Akil says, winking good-naturedly. "A long time ago, I wasted a lot of energy on that stuff, and sometimes I got upset, but I got smarter." Her gold bangles glint in the sunlight as she talks with her hands, as animated and quotable as a leading woman on one of her shows. "I mean, I've employed more people than just about anybody, so go ask those other people why they're not doing it! Don't put me in a place where it looks like I'm bitching. I'm not bitching. I'm hiring!"

This spring, BET will announce that it's once again betting on Brock Akil by green-lighting her third series, The Startup, about young tech entrepreneurs. ("It's like a young Entourage," she says. "Young kids in college trying to do a startup, falling in love.") "As a show creator, she has a gift for making a human and emotional connection between the screen and the viewer," says Charlie Jordan Brookins, senior vice president for original programming at BET Networks. "And as a showrunner, she has a record of success that's undeniable."
Perhaps because her success has often been overlooked, Brock Akil can quote her own stats. "Girlfriends had 172 episodes," she says, referring to her breakout show. "We've already produced 130 episodes of The Game. We're onto Season 2 of Being Mary Jane. And I feel like I'm just getting started. I want more. Let's go."
Raised in Kansas City, Mo., and educated at Northwestern University, Brock Akil began her career in the writers' rooms of UPN's Moesha and WB's The Jamie Foxx Show. She made her name in 2000 by creating Girlfriends, a UPN and CW series about women who date football players—the sort of successful black women who were edited out of the frame of shows such as Sex and the City and who were, apparently, desperate to see their stories on-screen. Girlfriends ran for eight seasons; when the CW canceled it, Brock Akil and her infuriated fans were powerless.
"Girlfriends was my first expression in the medium, my full voice, and it allowed me to document myself," she says. "It was: I'm here, I deserve to be here, and I'm entitled to it."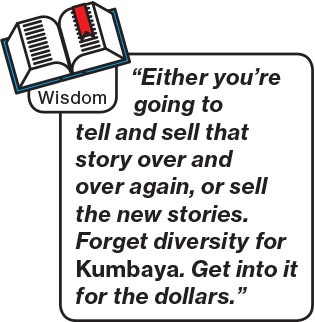 In 2006, Brock Akil and her fellow producers, Smith and Grammer, created a spinoff series on the CW, The Game, set in the often hyperbolic, always scandalous world of arena football. After four years of solid but drooping ratings, the sitcom was canceled by CW, which had never promoted it heavily. "Whenever a new network starts, they typically start with a black audience, then dump them once they get ratings and bring the other programming on," Brock Akil says.
But this was 2009, and the black fans who'd clogged phone lines in 2006 had grown into a powerful force on social media. So Brock Akil savvily coordinated a massive social media campaign. A "Save The Game" YouTube video featuring all her show's stars implored fans to complain on their Facebook and Twitter accounts and CW's message boards.
"Before, the studio held the narrative," Brock Akil says. "I heard that when Girlfriends got canceled, the fans broke the phone system. The mail was overwhelming. UPN or the CW didn't have to report that the fans broke the phones! With social media, it was all out there."
Brock Akil brokered a deal to move the show to BET, then surprised the industry when 7.7 million viewers tuned in for The Game's 2011 reboot, more than double its previous ratings high. It was the highest-rated series première in cable history. The following year, Brock Akil was forced to relaunch the show again when stars Tia Mowry-Hardict and Pooch Hall left after their contracts expired. She and her team took the opportunity to freshen up the format: killing the laugh track, rebuilding sets, and shifting to a single-camera setup. Making such dramatic changes so far into a series's run is almost unheard of on television, but Brock Akil says it was fitting for a program about the sports world, where free agency shifts lineups all the time.

"We're like Kobe," she says. "We're like, 'Gimme the ball, and we'll take that buzzer shot. Even if we miss, we'll be OK with it.' We took the shot."
The Game is now the most-watched returning weeknight sitcom on all of cable and, often, Tuesday night's most-watched cable show. "We called it the little show that could, and now I call it the cockroach," Brock Akil says, rocking back in her seat, clearly happy to have proved her critics wrong. "It's not gonna die. The Game will be here forever!"
In 2011, after The Game's titanic première, the president for original programming at BET, Loretha Jones, called Brock Akil in and asked her: If you could do anything, what would it be? That's the kind of question most successful showrunners get asked regularly, but Brock Akil says she was startled. "It was the first meeting where someone said, 'What do you want to do?' "


On the spot, Brock Akil pitched the story of Being Mary Jane: a woman much like herself—ambitious, gorgeous, and utterly fallible—who strives to just get through each day. Brock Akil wrote the pilot in two weeks. Although Union is one of the most glamorous actresses on television, her Mary Jane is messy and prone to making terrible decisions. An earlier generation of black television writers felt a responsibility to provide Cosby-style role models. But realistic imperfection, more often afforded to white male characters than minority women, has become Brock Akil's signature. Her pilot began with a quote that read, "Forty-two percent of African American women have never been married. This is one black woman's story, not meant to represent all black women."
In the show's première, a drunk partner makes rough love to Mary Jane and then vomits all over her the next morning. Fans loved it. Often, Brock Akil says, "a black audience that loves Breaking Bad or Weeds will criticize a show on a black network for doing something risqué that pushes the envelope." But she didn't back down. "The thing about writing for African American characters is, people think you have to right all the wrongs that were done in the past, and I can't do that," she says. "I believe if we keep trying to fix something that's over, we're missing out on what is in the moment. If I do that, my art is stale. I'm chasing a ghost."
Her star agrees. "I think we have perfection fatigue," Union says. "We're never going to be those beautifully airbrushed, perfect-double-zero women with the perfect hair and teeth and lives and husbands and children and careers. Mary Jane is every woman I know."
The moment is ripe for storytellers like Brock Akil. The demographics advertisers crave are changing fast. According to a Pew Research Center study in March, 43 percent of millennials (born between 1979 and 1995) are nonwhite, as are half of all U.S.-born children. Yet research by Huffington Post TV critic Maureen Ryan found that out of the 97 creators of hourlong dramas on AMC, Showtime, Netflix, HBO, and FX, only two were people of color—and just 12 were women. Brock Akil, who's been in the business for more than two decades, is a little tired of explaining evident facts. "On television, we're still holding on to this poster of a white husband, white wife, kids, the dog, the car—and America doesn't look like that," she says. "Either you're going to tell and sell that story over and over again, or sell the new stories. Forget diversity for Kumbaya. Get into it for the dollars."
That means pushing forward with her two shows and launching The Startup, developing films with her husband, and reaching more viewers, whatever their race.
"My husband and I laugh about this, because there's this really good BBQ place in the 'hood, and white people are there all the time," she says. Brock Akil gleefully adds that more of her white friends are telling her that they can't get enough of Being Mary Jane—even if she has to tell some of them what channel BET is on. "White people will go wherever to get the best of everything. If we're saying it's the best, they want to know about it, too."