Senegal's Wade Denied Permission to Land Plane
Sadibou Marone and Souhail Karam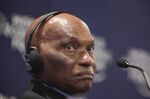 Former Senegalese President Abdoulaye Wade will travel to Senegal tomorrow after his plane was denied permission to land in the country for his first visit in two years, the Senegalese Embassy in Morocco said.
"Mr. Wade is expected to leave for Dakar tomorrow," Abdoulaye Keita, a spokesman for the embassy in Rabat, Morocco, said by phone today.
Wade's plane is in Morocco because authorities in the capital, Dakar, refused to authorize its landing yesterday, Omar Sarr, a coordinator for Wade's Senegalese Democratic Party, said yesterday. Sarr was speaking to hundreds of supporters gathered at the party's headquarters late yesterday, as heavily armed security forces stood guard.
Wade ran Senegal for 12 years before leaving the country after his defeat in a 2012 election to President Macky Sall. Wade's son Karim has been detained since April 2013 following a government probe into assets he accumulated under his father's rule. Karim, who was locally known as superminister because he held four ministerial portfolios simultaneously, is expected to stand trial in June.
Sall's office said in an e-mailed statement late yesterday that authorization for a flight from Morocco had been granted, only to be revoked because "important flight parameters were changed," including the plane's registration and passenger manifests. It said that a new application was made yesterday and received a "positive opinion."
Senegal, which has the second-largest economy in the eight-nation West African Economic and Monetary Union, is the only country in the region apart from Cape Verde where the government has never been overthrown by the military.
Before it's here, it's on the Bloomberg Terminal.
LEARN MORE