Maliki Looks to Iraq's Oil Gusher for Election Edge Amid Strife
Nayla Razzouk, Khalid Al-Ansary and Dana El Baltaji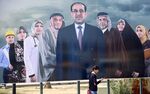 Iraqi Prime Minister Nouri al-Maliki is banking on sales from the highest crude oil output in 35 years to earn him a third term even as he struggles against an emboldened al-Qaeda and a surge in political violence.
Maliki, 63, is seeking a majority in April 30 parliamentary elections to extend his hold on power in the nation of 33 million people, where he first took office in 2006. The new parliament will also choose a president to replace Jalal Talabani, who has been receiving medical treatment in Germany since suffering a stroke in December 2012.
"Maliki is still the front-runner, but he has lost support," Robin Mills, the head of consulting at Dubai-based Manaar Energy Consulting and Project Management, said by phone on April 20. "For a new government to be successful, it has to go much beyond the energy sector, and it will have to actually start showing some big improvements in basic delivery of government services."
Under Maliki's leadership, Iraq, with the world's fifth-largest oil reserves, overtook Iran as the second-biggest producer in the Organization of Petroleum Exporting Countries, helped by foreign investors including Royal Dutch Shell Plc and Exxon Mobil Corp. It pumped 3.4 million barrels a day in March, 86 percent more than in December 2006 when he first became prime minister, according to data compiled by Bloomberg.
Oil wealth has buoyed the economy, which the International Monetary Fund forecasts to expand by 5.9 percent this year. The Maliki government plans a record $145.9 billion budget for 2014, up from $119 billion in 2013.
Pipeline Attacks
Even so, Iraqis must still contend with power cuts, poor roads and a housing shortage 11 years after a U.S.-led invasion ended Saddam Hussein's rule.
Political disputes are impeding the passage of an energy law, blocking approval of the budget and discouraging non-oil investments. Transparency International, a Berlin-based anti-graft group, ranks Iraq 171st among 175 countries and territories in its 2013 Corruption Perceptions Index. Iraq ranked 137th out of 159 in 2005.
Security issues too are a drag on the economy. Armed attacks have prevented workers from repairing the nation's main export pipeline, which halted operation more than 50 days ago, Najmeddine Omar Karim, governor of northern Kirkuk province, said on April 21.
'Viable Alternatives'
Government troops are battling fighters from al-Qaeda and allied forces to regain control of parts of western Anbar province. Acts of violence, aggravated by the civil war in neighboring Syria, have intensified, killing 3,015 civilians in the first three months of this year, according to the unofficial Iraq Body Count website. This year's fatalities are more than triple the number in the same period of 2013.
Religious differences lie behind much of the violence. Shiite Muslims constitute at least 60 percent of the population, with Sunnis about 32 percent, according to the U.S. Central Intelligence Agency.
"People have a sectarian voting inclination," so Iraq's next prime minister will most probably be chosen from among one of the leading Shiite political groups, Sam Wilkin, an Iraq analyst with Control Risks Group, said by phone on April 21. As the leader of the Daawa party, the biggest Shiite political group, Maliki's chances of winning are "fairly strong" because "there aren't any viable alternatives," he said.
Sunni Boycott
Maliki's relations with Sunnis and the country's Kurds have become strained.
Forty-four Sunni lawmakers have boycotted parliament since December, when security forces arrested one of them, killed his brother and broke up an anti-government protest in Anbar. A dispute with the government prompted authorities in Iraq's semi-autonomous Kurdish region to suspend oil exports through the national pipeline in December 2012.
Rival Shiite groups, including the Islamic Supreme Council of Iraq of Ammar al-Hakim and the Sadrist Movement of cleric Moqtada al-Sadr, criticize Maliki for what they say is his unwillingness to share power.
Political in-fighting is likely to continue after the elections and may delay the formation of any future cabinet for months, said Manaar's Mills. Maliki began his second four-year term in December 2010 after a political deadlock of about nine months following polls that proved inconclusive.
Al-Qaeda Boost
"There will be a period of instability after the elections," said Wilkin of Control Risks. "Even if Maliki gets more votes than others, he probably won't have more than 50 percent of them. They will have to form a coalition."
More than 9,000 candidates are vying for 328 parliament seats in a process to be monitored by more than 1,200 international observers and 30,000 Iraqis. About 21.5 million people are eligible to vote.
Maliki's State of Law parliamentary bloc may benefit from his military campaign against the Sunni al-Qaeda.
"The State of Law have been rallying the Shiite community by telling them that some Sunnis are trying to kill them and seize power, and this encourages Shiites to vote for Maliki's coalition," Ameer Al-Kinani, a lawmaker from the Sadr movement, said in an April 22 phone interview.
Before it's here, it's on the Bloomberg Terminal.
LEARN MORE