HBO's Amazon Deal Without 'Thrones' Shows Cable Loyalty
Edmund Lee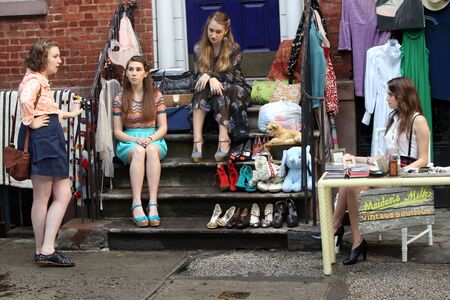 HBO, as it finally opens up some of its prized programming to online-only viewers, is still being careful to preserve the traditional TV business model.
HBO agreed to let Amazon.com Inc. offer some of its older shows to the e-commerce company's Prime subscribers starting in late May, the first time the Time Warner Inc.-owned network has made its content available to anyone outside of the pay-TV universe.
While that may appear to be a crack in the pay-TV business, HBO took care to save its most popular shows and current seasons for customers who get a TV bill. For anyone wanting to watch current hits such as "Game of Thrones," they'll need to buy a cable or satellite-TV subscription. And HBO Go, the company's online streaming service, also will still only be available to those with a pay-TV subscription.
Time Warner "is set to benefit from the licensing fees with very little or no risk of cannibalization to its existing authenticated HBO Go offering," Anthony DiClemente, an analyst at Nomura Holdings Inc., wrote in a report yesterday. He recommends holding the shares.
The deal also indicates HBO won't be releasing its own direct-to-consumer streaming service anytime soon given the exclusivity it granted Amazon. It's a bit of a reversal from a month ago when HBO's Chief Executive Officer Richard Plepler said at an investor conference that the network "will not be caught without the ability to pivot," in response to a question about the potential for broadband-only distribution.
Netflix Desire
Even so, he added that the current business model works right now, "for a simple reason: the arithmetic is right."
While Netflix Inc. had been courting HBO for years to get its content, HBO discussed a deal only with Amazon, according to a person with knowledge of the matter who asked not to be named because the talks were private.
It's an interesting fact considering that Amazon is now following a model successfully pioneered by Netflix: licensing older library content that lets content providers preserve their agreements with cable and satellite-TV companies. Previous seasons of current shows such as "Girls" and "The Newsroom" will become available about three years after airing on HBO.
In Netflix's early push, programmers such as Nickelodeon and Discovery were less wary of selling their libraries of older shows for online streaming because it allowed them to continue to charge cable and satellite companies lucrative fees to carry the channels.
Lucrative Deals
In the case of HBO, the network gets about $7.77 for every subscriber each month along with sister channel Cinemax, according to SNL Kagan. That helps the network generate roughly $4.78 billion in annual sales. HBO, which has about 29 million U.S. subscribers, doesn't want to lose any chunk of that for its own digital streaming service that would cannibalize the money it receives from the phone, satellite and cable companies.
The exclusive, multiyear arrangement with Amazon doesn't prevent HBO from exploring agreements to include its content in so-called over-the-top services, according to the person. Those services would offer packages of live-streaming channels -- similar to those offered with a cable subscription -- over the Web. It would be along the lines of the deal Walt Disney & Co. struck with Dish Network Corp. last month.
That doesn't qualify as a direct-to-consumer service since HBO would still be selling its content to a distributor on similar terms as it does with the cable and satellite providers, meaning HBO's current business model remains intact.
Before it's here, it's on the Bloomberg Terminal.
LEARN MORE