François Hollande's Cohabitation Problem (No, It's Not What You Think)
By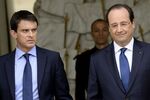 Less than two years into his five-year term, French President François Hollande made a bold gamble. On March 31, he named a dynamic prime minister, Manuel Valls, who vowed to reinvigorate the economy by slashing government spending and lowering taxes on business. In doing so, Hollande has created a very big problem for himself and for his Socialist Party.
In appointing Valls, Hollande has probably sealed his fate as a one-term president. If Valls succeeds, he'll get credit from voters for boosting growth and lowering unemployment, something Hollande and former Prime Minister Jean-Marc Ayrault failed to accomplish. That would put the ambitious 51-year-old Valls into pole position to become the Socialist candidate for president in 2017.
And if Valls fails? Hollande has already said he won't seek a second term if unemployment doesn't start falling before 2017. In that case, "I won't have any reasons to be a candidate," he said during a visit to a Michelin tire factory on April 18.
The broader problem for French Socialists is that Valls isn't really one of them. A free-marketeer and law-and-order advocate, he has likened himself to Britain's Tony Blair. Valls has proposed a €50 billion ($69 billion) reduction in state spending by 2017, including cuts in health-care and local government expenditures, and a freeze on social security benefits and civil servants' pay. "For more than 30 years we've lived beyond our means," he said in an April 16 television interview. "I cannot accept it."
Socialist lawmakers, who have a majority in Parliament, are already balking. "We'll have real trouble to unite the Socialists behind this plan in its current state," says Karin Berger, part of a group of Socialists trying to modify the plan before a scheduled vote on April 29.
In the end, the rebellion may fizzle because failure to approve Valls' plan could lead to a no-confidence vote in the government. That would weaken the Socialists ahead of European Parliament elections in May. Recent polls show the Socialists lagging the center-right UMP party of former President Nicolas Sarkozy, as well as the far-right National Front headed by Marine Le Pen. The drubbing taken by Socialists in municipal elections during March is what spurred Hollande to shake up his cabinet by appointing Valls and other fresh ministers.
France also is under pressure from European authorities to trim its budget deficit, which was 3.8 percent of gross domestic product in 2013 and is forecast to remain at that level this year. Hollande's failure to rein in spending was underscored today when national statistics institute Insee reported that the number of French government employees rose during 2012, his first year in office. France's tax take totals 46 percent of GDP, the highest rate in the euro zone. Valls and his supporters argue that high taxes and labor costs are sapping competitiveness, leading to higher unemployment.
The contrast between Valls and the country's mainstream Socialist leaders is so great that one UMP politician, Luc Chatel, has compared it to cohabitation, the term the French use when their president and prime minister come from opposing parties. "The massive gap runs contrary to the traditional functioning of the French system, in which the prime minister is the fuse that protects the president," Frédéric Dabi of the Ifop polling group told Bloomberg News. The situation, he says, reflects "the extraordinarily complicated situation faced by Hollande."
Before it's here, it's on the Bloomberg Terminal.
LEARN MORE