Delta Shrugs Off Winter Travel Woes With a Warm Profit
by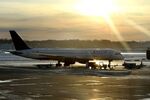 In a winter that generally ravaged travelers, Delta Air Lines posted an earnings report with no real damage from the polar vortex.
The storms that hit Atlanta and New York in January and February caused the carrier to cancel 17,000 flights and cut sales by $90 million and pretax income by $55 million, but Delta's profit still easily topped analyst forecasts. "That says a lot about the franchise we have here at Delta," Chief Executive Richard Anderson said on Wednesday's conference call.
The first three months of the year are typically the dreariest for airlines, as people finish their holiday travels and return to work, school, and paying off their credit cards. While Delta executives do not claim they have eradicated the seasonality that marks the airline business, they do boast of erasing the red ink that has historically cropped up for carriers in the coldest part of winter. (United is the only major airline expected to post a loss for the quarter.) "What you've seen us be able to do … is run a profitable, cash-flow-positive business quarter in and quarter out," Anderson told analysts. "And that's very important for our investors, and it's very important to being a member of the S&P 500."
Delta, which handily outperforms its domestic rivals financially, is targeting an operating profit margin of as much as 12 percent. In the current quarter, airline executives predicted operating margins as high as 16 percent. That's above the S&P 500′s current 10 percent margin and in line with profits at other large industrial companies, such as Caterpillar, Cummins, Deere, and General Electric.
In response to a question, Anderson used a portion of the call to blast the U.S. Export-Import Bank over its "huge subsidies" for Delta's foreign competitors that buy Boeing's jumbo jets, which Bloomberg Businessweek recently examined. He said Delta has "a pretty good glimpse" of the financing the bank offers buyers because of its ownership stakes in two Latin American carriers. "And they're well below market, and they're competing against private marketplace alternatives for capital," Anderson said.
In the quarter, Delta earned $281 million, or 33¢ per share, topping the 29¢ average estimate among analyst polled by Bloomberg. Delta shares rose 5 percent today and have gained 34 percent this year.
Before it's here, it's on the Bloomberg Terminal.
LEARN MORE