States' Worst Start Since '09 Shows Quest for Yield: Muni Credit
Romy Varghese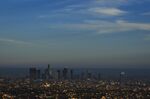 U.S. states are engineering a fiscal turnaround, eliminating deficits and logging record tax receipts. Their bonds are still trailing the $3.7 trillion municipal market by the most in five years.
Securities of states have earned 3.7 percent in 2014 through April 17, compared with 4.9 percent for the entire municipal universe, according to Bank of America Merrill Lynch data. That's a reversal from last year, when the bonds' 1.2 percent drop beat the market's 2.9 percent decline.
California, Illinois and Rhode Island are selling this week as municipal bond offerings are 32 percent behind last year's pace. With the issuance slowdown and benchmark interest rates the lowest since June, investors are eschewing state obligations in favor of higher-yielding debt, said Justin Hoogendoorn, managing director at BMO Capital Markets in Chicago.
"If you look from the beginning of the year, the lower-rated names and the wider-spreading names, they performed very well," Hoogendoorn said. "With so little supply, people are just going where they can."
Fiscal Revival
States have benefited from a growing U.S. economy. Their revenue rose in fiscal 2013 for a third straight year, pushing collections to a record $846.2 billion, according to the Census Bureau. The rebound from the recession that ended in 2009 comes two years after 31 states faced collective deficits of $55 billion, according to the Center on Budget and Policy Priorities. The Washington-based group examines the effect of fiscal policies on low-income Americans.
Ratings companies have taken note. Moody's Investors Service raised its outlook on the governments to stable from negative in August. The composite rating for Bank of America's state index is Aa2, the third-highest Moody's grade and one step above the bank's gauge for the entire market.
Even as their balance sheets improve, states aren't ratcheting up expenses, said Adam Weigold, who helps manage munis at Boston-based Eaton Vance Corp., which oversees $24.8 billion of local-government bonds.
"They're probably still a little shell-shocked from the last couple years as far as adding new employees and investing in new projects," Weigold said. "That will help them improve credit."
Worker Tally
States still employ about 3 percent fewer workers than the peak in 2008, data from the Bureau of Labor Statistics show.
Top-rated states are among the worst performers in 2014. Maryland, with the highest ratings from Moody's and Standard & Poor's, is earning 3.3 percent to the market's 4.5 percent, according to S&P indexes.
Speculative-grade munis have earned 6.2 percent. Investors have piled into bonds of high-yield localities, adding cash to the funds for 15 straight weeks, Lipper US Fund Flows data show.
This year's drop in supply means states may extend their underperformance, said Jeffery Timlin, who helps manage $600 million in munis at Sage Advisory Services in Austin. Issuers have sold about $72 billion of fixed-rate, long-term debt in 2014, down from $105 billion in the same period last year.
California plans to offer $750 million of general obligations today, while Illinois has scheduled a borrowing of the same amount this week, data compiled by Bloomberg show. Rhode Island will issue about $79 million.
State debt is a haven for investors who don't have the stomach for the price swings seen in debt of issuers such as junk-rated Puerto Rico, Timlin said.
Tax-exempt bonds that the struggling U.S. territory sold last month have dropped below their issuance price.
"A stable, low-volatility type of approach, even though it may underperform in the short-run, typically works out better for those investors because they tend to hang in there longer," he said.
Before it's here, it's on the Bloomberg Terminal.
LEARN MORE