Sapin Says Socialists Won't Derail Hollande Economy Plan
Helene Fouquet and Mark Deen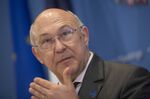 President Francois Hollande's plans to overhaul the French economy will survive attempts by Socialist lawmakers to dilute the measures proposed, according to the man charged with implementing them.
Finance Minister Michel Sapin said in an interview late yesterday that he's open to proposals on the detail of planned tax and spending cuts worth 50 billion euros ($69 billion). That doesn't extend to allowing any changes to the broader aims of the government's fiscal and economic program, he said.
"There is no question of reducing our competitiveness push nor the spending cuts necessary for deficit reduction," Sapin said onboard a train to Paris from Lyon, where he attended a conference on small business financing. "Yet all proposals to cut spending differently can be discussed." He cited as an example moves to ensure those on smaller pensions don't suffer from the cuts.
Sapin and Economy Minister Arnaud Montebourg briefed Hollande's cabinet in Paris today on their plans for Europe's second-biggest economy before taking the blueprint to Brussels for approval as part of the euro area's new procedures for coordinating economic policy. Sapin will present the spending plan to the finance commission of the national assembly at 11.30 a.m., with a vote in the French parliament slated for April 29.
Growth 'Realistic'
With record low popularity ratings and historic unemployment levels, Hollande is trying to balance pressure from lawmakers to bolster growth with demands from the European Commission to trim France's budget shortfall. His case was helped with an assessment by France's public finance board today that the government's estimate of 1 percent economic growth this year is "realistic."
Prime Minister Manuel Valls was urged by a group of Socialist lawmakers yesterday to slow the pace of the cuts to protect pensioners and civil servants. He has pledged 50 billion euros in spending reductions by 2017 to fund a lowering of payroll charges to business.
"We'll have real trouble to unite the Socialists behind this plan in its current state," lawmaker Karin Berger said on France 3 television. Among the measures the group is proposing is to delay a tax cut for big businesses by one year, Berger said.
Cuts Breakdown
Valls envisages a freeze in social benefits, which he says will help save 11 billion euros, with reductions in spending on health care yielding another 10 billion euros. Cuts in local government spending are estimated to save 11 billion euros, while state spending on administration is to drop by 18 billion euros. Wages of state employees will be frozen to 2017.
France is at the same time bound by European rules to shrink the budget deficit to 3 percent of gross domestic product by 2015. With taxes at 46 percent of GDP -- already the highest in the euro zone -- and a tax revolt last year, Hollande has no recourse other than to cut public spending.
Sapin said that France isn't seeking a third delay in meeting the deficit target since the financial crisis and recession.
"Everyone thought that France would do as usual" and ask for an extension, he said. "I didn't ask for one, not once." This time, "we have a little bit of room for maneuver," he said.
Before it's here, it's on the Bloomberg Terminal.
LEARN MORE